Halo 3 Will Launch In The Master Chief Collection In Mid-July
This morning, 343 Industries revealed that Halo 3 will join the Master Chief Collection sooner than we expected, as the game will drop on July 14th. The game has officially finished being optimized for PC, which we're guessing may include a bug or two that might need patching down the road. But you can join the game next Tuesday through Xbox Game Pass for PC (Beta), the Microsoft Store, and Steam. Considering how long it took the developers to produce Halo 2 in the same manner, we kind of half expected this to take a little while longer and be more of a stepping stone for players to eventually get into Halo Infinite when it is released with the Xbox Series X. But it appears all the working from home for 343 Industries paid off as they were able to hammer this out faster than some assumed it would take.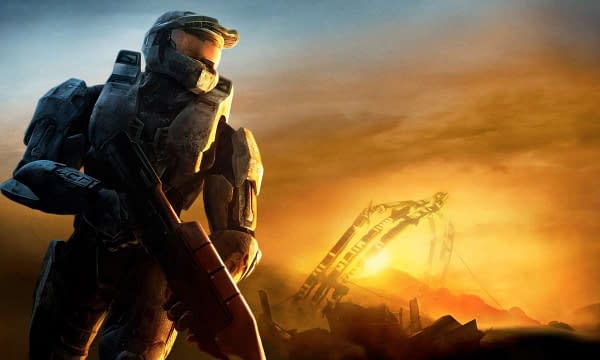 Halo 3 came with a bunch of changes to the way multiplayer operates and the kind of things you can do, which let's be honest, is what a lot of people will be checking the game out for since the main campaign (even on Legendary) only takes about 8-10 hours to beat. Enjoy the new trailer for the game below as the team encourages you to finish the fight!
The legendary saga continues with Halo 3 as the Master Chief returns to uncover an ancient secret, and bring the conflict between the Covenant, the Flood, and the entire Human race to a dramatic, pulse-pounding climax. Developed by Bungie and published by Microsoft, Halo 3 is the concluding chapter in the Halo trilogy—an international award-winning action series that grew into a global entertainment phenomenon, selling more than 14.5 million games worldwide, logging more than 650 million hours of multiplayer action on Xbox Live.