Have the Greatest Nap of Your Life Inside Kirby's Mouth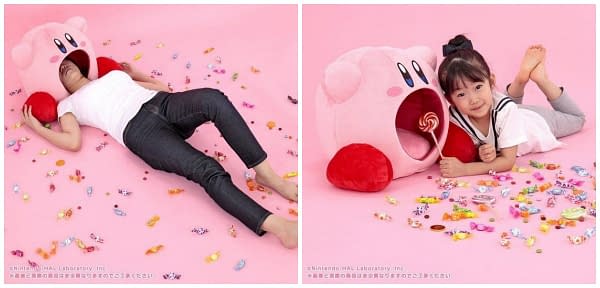 Have you ever wanted to take a nap with Kirby, all cuddled up next to that little ball of fluff? What about wanting to stick your head in his mouth? Did you even know that was an option?
If you've ever wanted to get up close and personal with Kirby's mouth to drift off into sweet slumber land, you can do that now, thanks to Bandai.
The company is selling a special nap pillow that lets you rest your head in Kirby's massive piehole for a snuggly, comfy sleep. It may not sound like the best idea, but seeing it in action really seals it for me. It may even make a decent pet bed for your dog or cat, if they're small enough.
Right now, they're up for grabs, so if you want one, you'd better snag one before they up and disappear. You know Kirby, the pink, fuzzy vacuum. There's something about that little guy that makes everything feel like it's all going to be alright. There's no way he'd try to digest you in your sleep. Absolutely no way.
Just…maybe have a backup plan, like a regular pillow, available if you happen to need one or feel as though your head is melting in the middle of the night. Kirby might mistake you for a midnight snack.