Heroes Of The Storm is about to get changed, and not for the better, depending on which side your own, as Deathwing arrives. You've seen his wrath in WoW and Hearthstone, now his wrath will be felt in a third title as he will be coming to the game before year's end. Deathwing will be playable for the first time on the BlizzCon show floor next week. Until then, enjoy the trailer and see the destruction that awaits you in Heroes Of The Storm.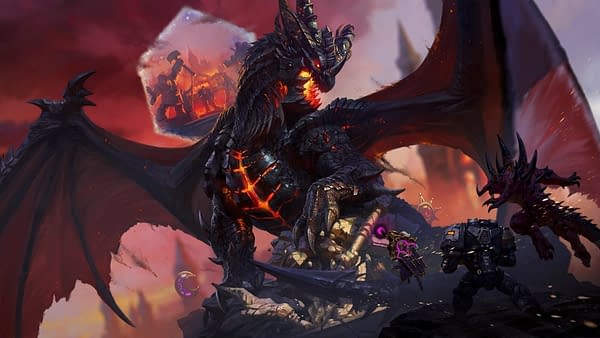 You've felt the tremors of his approach; now prepare for the unmaking of your world as Deathwing descends upon the Nexus. Not content to lay waste to World of Warcraft and Hearthstone, The Worldbreaker has set his sights on the realms of the Nexus to spread his reign of death and destruction.

The Destroyer, is the latest genre-defying Hero to enter the fray with a unique playstyle befitting such an iconic Hero. In fact, Deathwing is so powerful he has two forms each with new abilities that will allow you to embrace the Aspect of Death fantasy and rain molten destruction across the battlefield!

Permanently Unstoppable and covered by reinforced armor plates, the Unmaker of Worlds looks down upon all living things—including his own team. To balance his immense power, Deathwing sports one great weakness: he cannot be targeted or healed by his allies. Those who are daring enough to try Deathwing will have to utilize their own cunning and be strategic in how they choose to wield his incredible strength!
Enjoyed this article? Share it!