A Way Out is More than Just a Playable Prison Break Movie
EA Originals and Hazelight's A Way Out is a playable prison break movie. In a lot of ways, it allows you to pretend you're Clint Eastwood in Escape from Alcatraz. However, because it can only be played as a two-person co-op game, Hazelight managed to give us more than just an interactive movie. And that's far more than I expected of the game initially. Sure the game was made by Josef Fares, who brought us the groundbreaking indie game Brothers, but before playing A Way Out, none of this game seemed to have anywhere near the same heart. In fact, no part of the game really spoke to me, and to some degree, it still doesn't. A Way Out doesn't have the best writing and some of the dialogue and voice over work is so incredibly stilted the game becomes laughably bad. So if you were looking for a strong narrative about a prison break, you may as well go watch the Clint Eastwood movie.
However, if you want an enjoyable co-op experience for you and a friend to play through together, A Way Out does have something for you.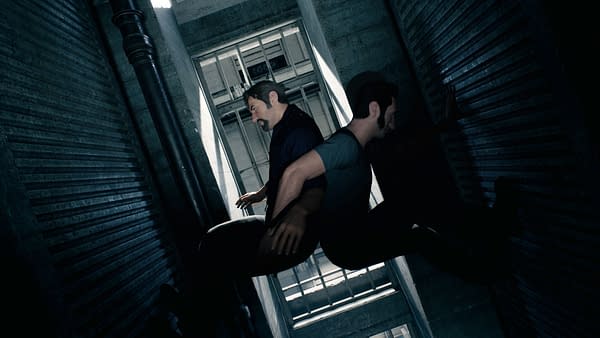 At many points in the game you and your partner have to coordinate your moves so that you properly break down a door or are waiting there, ready to catch your partner when they make an incredibly ill-advised leap across a massive chasm. So you will need to communicate in order to get through the game with as few resets and deaths as possible.
The careful crafting Hazelight put into the game to craft two-player puzzles that require a high degree of cooperation really makes this game shine.
Now, the local multiplayer option isn't always a proper 50/50 split-screen, depending on the circumstances, you might share the screen, or have a 2/3-1/3 sort of arrangement. Which is your typical co-op setup, and its side-by-side split-screen for two players rather than a top-bottom split, which gives a really unique experience. The dynamic shifting of the screen based on what is going on in-game is a novel experience and a very useful story-telling tool. You know exactly how to weigh what's going on on-screen by how much visual real-estate the development team gave it on-screen.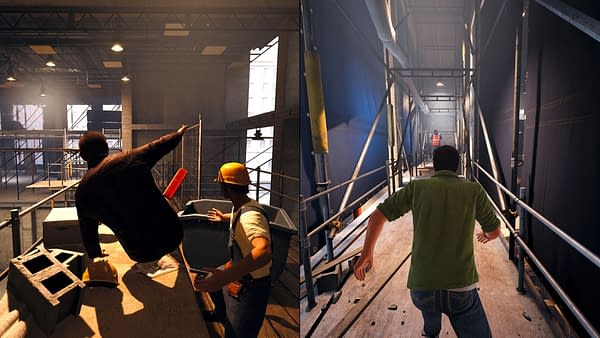 While, I wouldn't call A Way Out any kind of technological or design marvel, the game is a breath of fresh air. There aren't a whole lot of games on the market like it, which definitely does make it an enjoyable play. Game director Josef Fares took what worked in Brothers and essentially gave us a 3D rehash of much of the mechanics. And while you could play Brothers alone (one player controlling both brothers), it had a much better story with much stronger characters. Both Vincent and Leo feel like characters we've seen a million times before, both protesting their innocence while admitting to money laundering, grand theft auto, and assault. And neither character grows or changes at all over the course of the game. So we're stuck with a narrative we're familiar with (two men break out of prison to prove their innocence) with two static caricatures for our lead characters, and game-play mechanics that borrow heavily from its predecessor.
The thing that I enjoyed the most about A Way Out had nothing to do with Hazelight's work. It was the snark and ongoing narrative that my roommate and I wove together to keep ourselves entertained by the game. The co-op gameplay was enjoyable, the constantly shifting split-screen was fascinating to watch, I did have a lot of fun playing the game, and there isn't really another game like A Way Out except for Brothers. So I'm willing to give the game a pretty high score for being entertaining and having a variable design.
The story though is the place where A Way Out disappoints the most. Fair warning, we're gonna get a bit spoilery below, so if you don't want those, feel free to tune out now. What I ended up being most fascinated by in the game were its nods to history, to stories of real prison breaks. The prison in A Way Out is clearly designed after the familiar cell block of the US Federal Prison at Alcatraz, which is now a national park. The three tiered blocks of single-man cells, with a maintenance corridor in the middle of the blocks (running behind the cells), with the guard cages at either end, and the remote cell door mechanisms all hearken back to the infamous prison. There are even moments in the game where a gate shuts, and the sound is taken from the cell doors at Alcatraz (a sound that's been used in countless films and TV shows). The escape plan that Vincent and Leo has a bit in common with the famous Alcatraz escape attempt of Frank Morris and brothers John and Clarence Anglin in June of 1962. But mostly it draws from other escapes, including fictional ones. There's quite a bit of The Shawshank Redemption in the way Vincent and Leo manage to crawl out of the prison (it involves sewage), while their on-the-run phase is much more like what we saw in The Great Escape. The game's narrative structure also mirrors The Escapist in its dual-timeline format. You skip between playable flashbacks of Vincent and Leo escaping prison to them sitting on a plane, headed somewhere in tactical gear.
The story jumps off the rails pretty quickly once the boys grab a car and come across five separate police blockades in short order along with quite a few vehicles in pursuit. Taking a beaten down truck and racing it up the side of a mountain followed by three police cruisers, all the vehicles eating up terrain they'd never be able to handle in real-life, and then watching both Vincent and Leo proceed to escape by rowing a boat through massive rapids is a bit more suspension of disbelief than I'm willing to give a video game after only two and a half hours of gameplay.
That both Vincent and Leo go on to plot revenge against the man who landed them both in prison (a fact that brought them together in the first place) is a ridiculous premise. We go from a relatively tight prison break experience into a revenge story, and completely lose any sense of credibility or reality along the way. There are sharks, and this game jumps them about the point where the men survive a waterfall by jumping out of their row boat, and somehow manage to not be caught by waiting police.
From there on out, everything feels like pure fantasy. And while there are definitely theories that can explain it (the boys died along the river, possibly at the waterfall, or never even made it out of the prison in the first place), the game does not indicate that one of those theories might hold water. And so we're left with an implausible story presented to us as realistic truth, and I just cannot buy it. The plot would have been much tighter if Fares stuck with the premise a bit longer. The prison break is far too short, and everything that comes after is far too unlikely. Less of the after and more of the puzzle-solving escape would have helped audiences suspend their disbelief for the entirety of the revenge plot.
That said, I wasn't expecting much of a story after the first three minutes of dialogue, because it truly is bad. So with hedged bets on the plot, I was able to still enjoy the hell out of the game. Which is more than I had expected.