With the holidays on the way, we thought we'd revisit a product for those looking to get into Dungeons & Dragons with their Essentials Kit. When you first take a look at D&D in general, sometimes it can be daunting. The books, the knowledge, the planning, the character creation. When you get it you just get it, but there are a lot of people who sometimes can't grasp some of the concepts. No fault to them or the game, some people just need a little help getting the information sorted out before they dive in. Which is where the Essentials Kit comes into play. This is an all-in-one kit that has what you need to jump-start an adventure in the world of D&D with ways to learn what everything does and how it works. Both for the players and for those looking to become a Dungeon Master leading the game.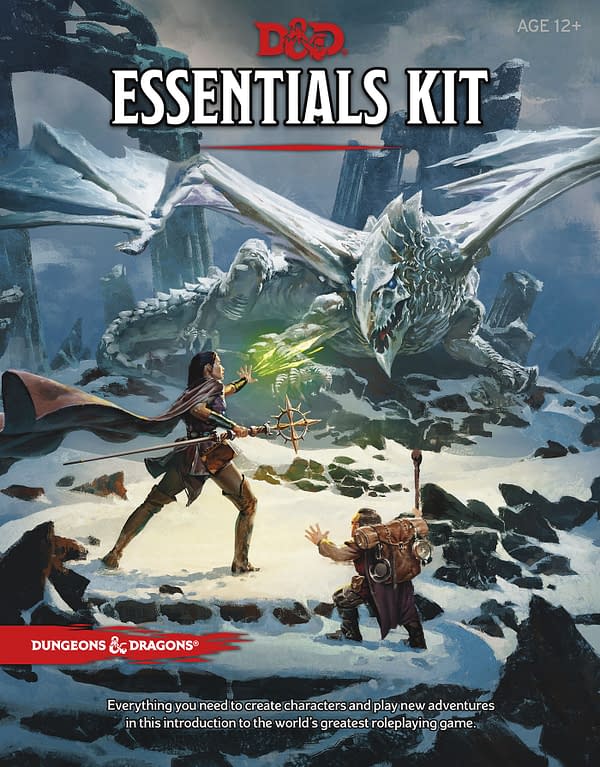 Inside you have an adventure book called Dragon of Icespire Peak, which is a standard adventure for low-level characters that will help them get started. You're given a rulebook with all of the necessary information to run a campaign as a DM, as well as shorthand info on how to create a character. A set of blank character sheets for those playing the game. A map of the Sword Coast, initiative cards, condition cards, random characters to run into, random quests, and a bevy of magical items you players can find. You also get a small cardboard DM screen with easy-to-find info for the DM, and a small dice box to make rolls in. Not to mention your standard array of dice to make rolls with, which includes an extra D20 and three extra D6.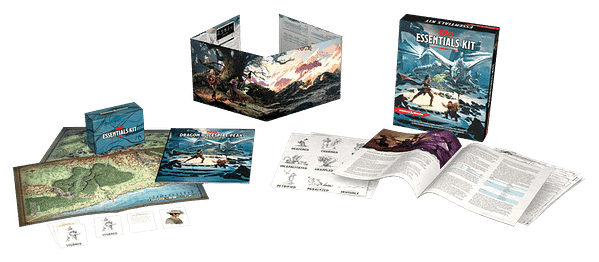 The adventure is short to some degree but can be expanded for people to learn how to play. If those playing it have fun and want to continue, you have a few options to expand and create your own adventure using what's in the box. Which is part of the fun of Dungeons & Dragons, you don't need to buy adventure books if you can't afford them, you just need some pencil, paper, and imagination. The Essentials Kit is a good starting point for those looking to get into the game without it costing too much. And if the time comes you do decide to expand on it, you already have most of what you need to know learned from this kit. Right now the kit is going for $25.
Enjoyed this article? Share it!