Homeworld Fleet Command Announces Crowdfunding For New Set
Modiphius Entertainment is looking to get funding for a new Homeworld Fleet Command tabletop game, happening right now.
---
Modiphius Entertainment announced this morning they have started a crowdfunding campaign for a Homeworld Fleet Command board game. As you can see from the image below, the team is working with Gearbox Publishing to bring a tabletop experience that will feature a wide array of ships designed to help you to grow your massive intergalactic fleet against up to four other opponents in fast and epic battles. The team have already shattered the goal as of this morning on Kickstarter, so at this point its now a matter of building up funds for bonus content. Here's more on the set.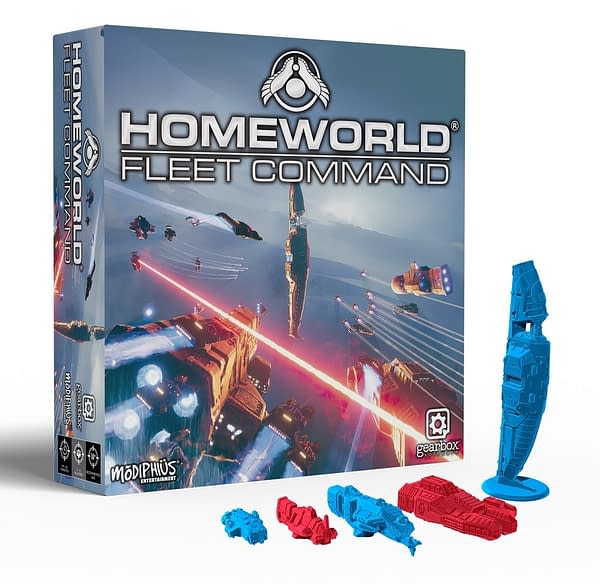 This new game will feature a wide array of ships to grow your massive intergalactic fleet as you engage in fast and epic battles with up to four other players. Additionally, the Homeworld Fleet Command board game boasts a 10-part campaign that is sure to keep players engaged through a plethora of exciting scenarios as it aims to fully encapsulate large-scale battles found in the Homeworld series. Backers can expect to get the base game and expansion that offers new ship models, campaign play, ship upgrades, new game mechanics, Kickstarter exclusives, and much more.
A 10-part campaign that will take players from the first fighter skirmish to epic battles such as Return to Kharak, Supernova Station, and Tenhauser Gate.
Step-by-step scenarios make it easy to jump right into the shoes of an Admiral and gradually learn the core game mechanics as the size of your fleet increases.
101 plastic ships in the base game, including the iconic Mothership, 48 fighters, 24 Corvettes, 24 Frigates, two Carriers, two Destroyers, and one Mothership. The expansion adds another 100 ships to grow your fleet.
Solo rules let one person play either side against a determined opponent, or up to four players can share the command.
Multiple copies of the game can be combined to create epic fleet battles!