Horizon Zero Dawn Board Game Pledges Reopen To Backers
Steamforged Games, a tabletop gaming company known for its original works Guild Ball and Godtear as well as many board game versions of video games, has announced their reopening of the pledges for their campaign to bring Horizon Zero Dawn to the tabletop. These reopened pledges are available to both new and existing backers of the campaign.
The campaign for the 1-4 player board game reopened officially on May 29th of this year. New and prospective backers who missed the original campaign on Kickstarter have the chance to pledge at the "All-In" level on Steamforged Games' online store at a price point of £280. 280 Pound sterling roughly translates to around $353 USD as of the time of us writing this article, for American fans to keep in mind when pledging.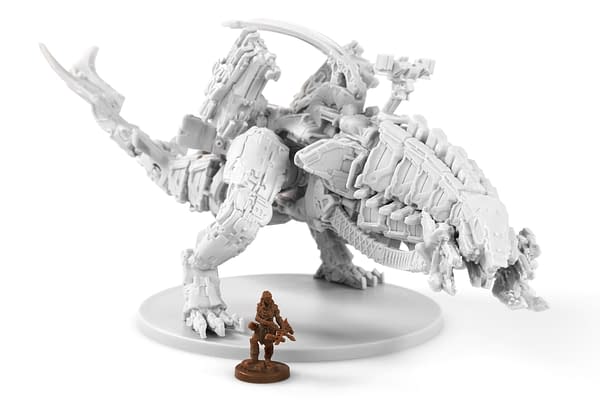 This decision has been made due to the COVID-19 pandemic prolonging the production timeline for Horizon Zero Dawn: The Board Game by long enough that this pledge could be made to reopen. While the production delay also affects the delivery timeline from September 2020 to a later date, this delay also gives existing backers the chance to change their pledge to a greater one or to get ahold of campaign add-ons that they otherwise may have missed out on.

To mitigate this delay in the timeline, Steamforged Games is offering anyone who backed the core game a chance to get it in November 2020, and any add-ons and expansions in July of 2021. What do you think of this campaign and the announcement that has been made? Are you a fan of Horizon Zero Dawn? Let us know your thoughts in the comments below!