This morning, Electronic Arts revealed that Lamar Jackson, Quarterback for the Baltimore Ravens, is the cover athlete for Madden NFL 21. The company made the reveal along with a new trailer, some added screenshots (both you can see below), and more info on the game. The game is boasting an improvement in all areas as they bring players closer to the game. This includes improved ball-carrier mechanics for the running back and receiver positions and enhanced D-Line mechanics that make the pass rush positions more responsive. They have created a more realistic Open-Field Tackling will allow for clutch defensive stops, and new player-controlled celebrations to make it more realistic. They've also boasted about the overall authenticity and presentation with new on-field camera shots that make it feel like a televised game.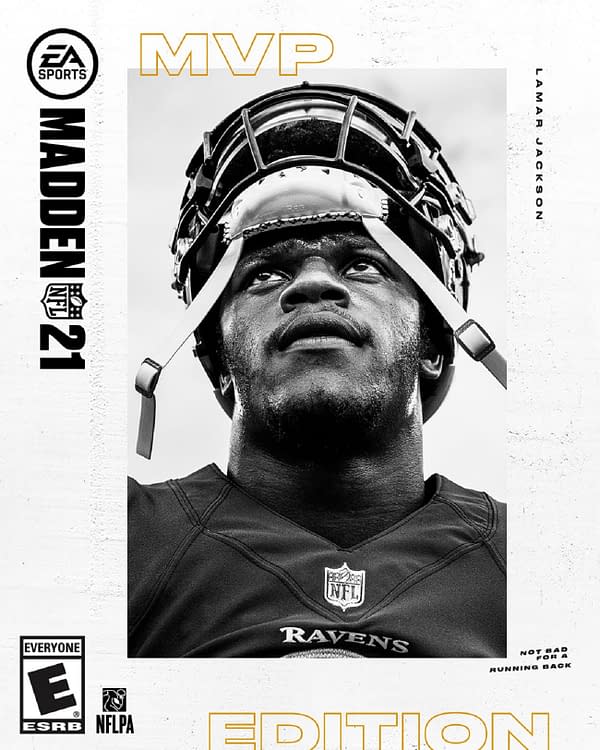 Another new addition is Face of the Franchise: Rise to Fame, which is a playable documentary career campaign where "players create themselves and play through their rise to fame from high school as a quarterback, to college where they can choose to pivot to running back or wide receiver, before experiencing the NFL Combine, NFL Draft, and cementing their legacy in the League." So basically a new and improved career mode that feels like a documentary. They've also added more than 50 new Superstar X-Factor abilities, Live Playbooks 2.0, and a brand-new season of Ultimate Team content, along with other new features. We have a couple of quotes for you below from this morning's announcement.
"I grew up playing Madden and owned every copy I could get my hands on, so to be on the cover of Madden NFL 21 is a dream come true, especially when the cover represents so much of my story," said Lamar Jackson. "The welcome to the Madden family from around the league and from fans has been phenomenal and I think people will have a lot of fun with the new features coming in this year's game."

"Our players are some of the most passionate in the world. They love Madden and we want to make sure we're fulfilling what they'd like to see most in the game and delivering new features to up level each iteration," said Seann Graddy, Executive Producer of Madden NFL 21. "In Madden NFL 21there are a range of authentic new gameplay improvements that both our most engaged players and any fan of football will enjoy, plus unique experiences that will allow every player to live out their NFL fantasy with more still to come."
Enjoyed this article? Share it!