Lee Shi Tian Wasn't Censored During Mythic Championship V
The latest esports player to test the Hong Kong protest waters is Lee Shi Tian, who was competing this weekend in the Mythic Championship V. During the Magic: The Gathering tournament, Tain took to the stage to express himself a couple of times between rounds. One of which, as you can see here, has him wearing a red scarf over his face during an interview.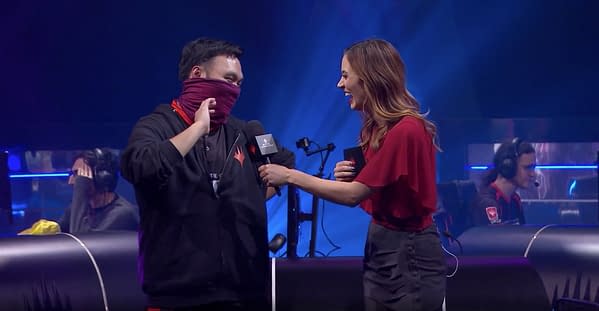 Considering what's been happening the past couple weeks in other esports circles, you might expect people to cut away, right? Not this time. Wizards of the Coast has apparently allowed Tain to continue speaking and expressing himself on the subject of Hong Kong during the tournament this weekend. And according to some sources on social media, the Twitch feed was allowed to leave it be in the chat room for people to continue having conversations about it.
We reached out to Wizards of the Coast for an official statement on the matter, but as of the time this article has gone up, we have not received a response. For the time being, it appears WotC is fine with what he did, as they did not pull him from the tournament. We'll see what kind of effect this has on Magic: The Gathering in the days ahead, but for the time being, it appears WotC learned from others and chose to leave any protests or statements made during the Mythic Championship V alone.