Ahead of PAX West 2019, Level 99 Games has announced their latest board game in partnership with Yacht Club Games with Exceed: Shovel Knight. This is a fighting card game based on the Shovel Knight universe where you can play as Shovel Knight, Shield Knight, Enchantress, and all eight knights from Order of No Quarter in head-to-head combat. The game will be released in December 2019, and along with the prices mentioned below with the trailer, you can pre-order the complete Exceed: Shovel Knight bundle and receive an exclusive playmat for just $99.95 on their website.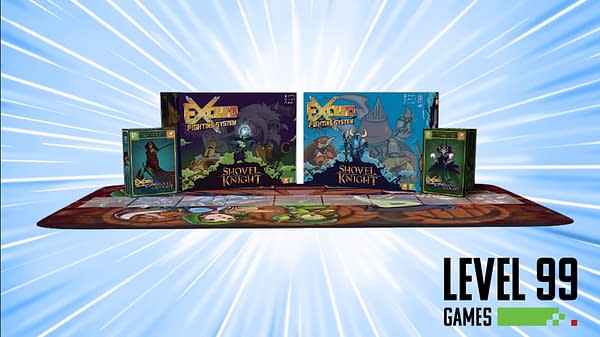 Exceed brings to the tabletop a robust system of dueling card play reminiscent of action-packed, fast-paced fighting video games. The series has already featured well-known fighters from the cult classic video game Street Fighter, as well as crossovers with such diverse brands as Penny Arcade and the Red Dragon Inn. Level 99 Games is excited to welcome the cast of Shovel Knight into the roster as well, ushering in a new season of exciting fighters to collect, learn, and master.

Exceed: Shovel Knight will be available in two large boxes, retailing at $29.95 each, and two smaller expansions retailing at $11.95 each. The full-size boxes feature everything a player needs to start the game, including rules, a play area, and four complete fighters. Smaller expansions feature just a single fighter. Each fighter in Exceed comes complete and ready-to-play—players do not need to collect or trade to complete their decks. The game is easy to jump into casually, but deep enough to play again and again.
Enjoyed this article? Share it!