Limited Run Games To Release Among Us Collector's Edition For PC
InnerSloth has partnered up with Limited Run Games to release a Collector's Edition of Among Us for PC players. In what seems like a really weird maneuver for a game as simple as this that's already been out for a few years, it looks like they're going to give PC players a chance to upgrade their love for the game with some physical items. Those items include a working Emergency Button that plays the emergency sound from the game, a Collector's Box designed to showcase the button, a Jewelcase with a physical disc that includes ambient music from the game, the official G2 Blu-ray sized Steelbook case, a reversible 18 x 24" poster, and two download codes for Steam and the Epic Games Store. You can purchase it for $80 when it goes on sale on Tuesday, May 11th.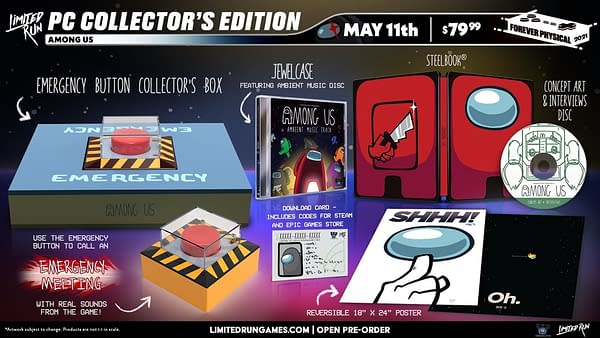 Join your crewmates in a multiplayer game of teamwork and betrayal! Play online or over local WIFI with 4-10 players as you attempt to hold your spaceship together and return back to civilization. But beware…as there may be an alien impostor aboard! One crewmate has been replaced by a parasitic shapeshifter. Their goal is to eliminate the rest of the crew before the ship reaches home. The Impostor will sabotage the ship, sneak through vents, deceive, and frame others to remain anonymous and kill off the crew. While everyone is fixing up the ship, no one can talk to maintain anonymity. Once a body is reported, the surviving crew will openly debate who they think The Impostor is. The Impostor's goal is to pretend that they are a member of the crew. If The Impostor is not voted off, everyone goes back to maintaining the ship until another body is found. If The Impostor is voted off, the crew wins in Among Us!