Looking Over ROCCAT's Latest Keyboard at E3
While going through the tech halls and appointment rooms at E3, we managed to score some time to check out what ROCCAT was up to. They didn't have a lot to show us this year except for their latest gaming keyboard in the Vulcan. This is actually a lovely little piece of tech to check out as it's a mechanical gaming keyboard with a few key choices in design that make it stand out from others of the same ilk. First off, you got these raised keys that are LED lit and show off more of the board because they're not covering the sides, so you got this radiant look about it that makes the lighting pop and the board appear extra special.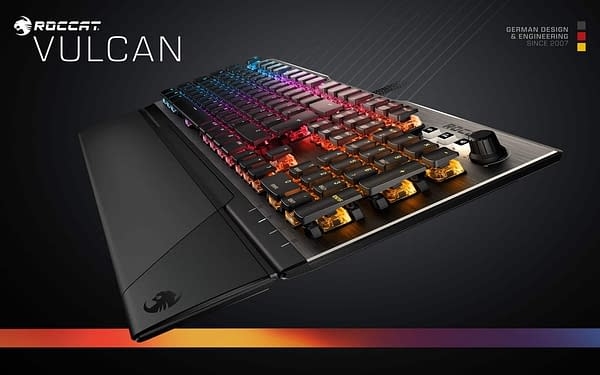 The media keys in the corner were given some additional attention and an old-school volume control dial was installed that looks pretty cool. The board was also made to be a lot sturdier than others so it can take a harder beating than previous models for those of you who get frustrated. Complete with an armrest at the bottom that snaps into place and compliments the Vulcan, making it quite a site to see. The ROCCAT Vulcan is currently on sale for $130 after the convention, we hope to get a copy of one to review it more in-depth.