Lost Ark Announces Plans For First Anniversary Celebration
Lost Ark has been around for a solid year, and to mark the occasion, Amazon Games will be holding a few festivities.
---
Amazon Games have announced that they will be releasing new content in the Lost Ark February Update to celebrate the game's one-year anniversary. One year ago, the team released the full version of the game, providing monthly updates and events to challenge players across the board and provide content with their new IP. One year later, they're kicking their feet up and celebrating a bit with new events this month, a new mount, special food items, and more. Plus, some content for Twitch if you happen to be celebrating there. Here's more info on the party!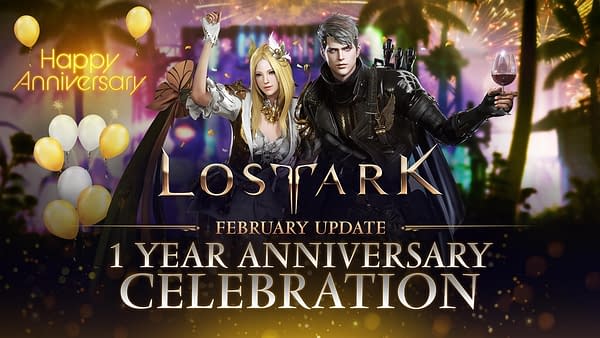 Lost Ark One Year Anniversary
To celebrate Lost Ark's birthday and thank everyone who's joined us in Arkesia, the February update includes special events full of valuable rewards. In a new two-part event, we've scattered birthday cards around Arkesia—and some of them can be found in a new Hot Spring team-based event. Along with the events, there are two monthly log-in reward tracks full of birthday gifts, like the Mirror Ball Bubble Mount! On top of all that, a special Fever-Time Event will run from February 8th-21st, with six rewards available to claim. Stop by to celebrate and receive special food items, Pheons, card packs, and more. You can find more details for the anniversary events (and all the other content releases) in the First Anniversary Celebration Release Notes.
1st Year Anniversary Twitch Drop
Continue the celebration with a special Twitch Drop accompanying the anniversary update. Members of the Lost Ark Creator Program can enable this new Twitch Drop on their channel, containing a Traditional Punikan Clothing Selection Chest, the 1st Anniversary Headband Selection Chest, along with 1,000 Amethyst Shards! Make sure to head over to Twitch and watch your favorite Lost Ark content creators before the drop ends on February 27, 2023. The Twitch Drop is split in two tiers. Viewers will need to accumulate 4 hours of watch time in participating Lost Ark streams to claim the first Drop, which includes the 1st Anniversary Headband Selection Chest and 1,000 Amethyst Shards. Once that Drop has been claimed, the Traditional Punikan Clothing Selection Chest Drop can be earned by watching an accumulated 4 hours. Full instructions on account linking and claiming can be found on our Twitch Drops page.
Sharing The Love On Twitch
To celebrate the wonderful and talented content creators and their communities around the world, we'll be stopping by Twitch Streams from February 8 to 18, and sub-gifting 50 streamers! The past year has been chock full of new content, exciting moments, and rage-honing—and it's only the beginning. 2023 will feature new classes, new continents, new Legion Raids, community celebrations, and more. We're so grateful for all of you who have joined us at the start of this adventure, and we're excited about the long future ahead!