EA has come out and apologised for censoring Colin Kaepernick's name in a song in Madden 19, saying that it was done in error over fears of rights usage.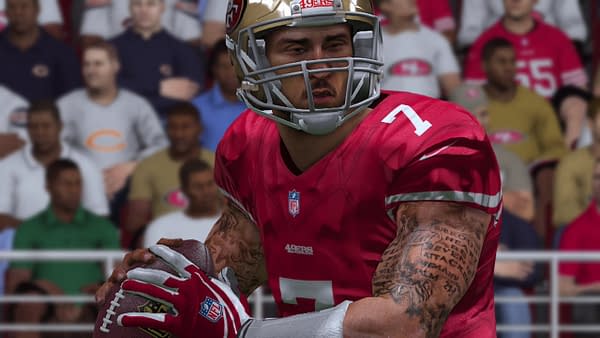 Colin Kaepernick has been a controversial figure in the world of sport and politics for the last few years. He started the trend of NFL players kneeling during the US National Anthem at games over the issue of police brutality. It sparked a debate in the nation, about the national anthem and protest. After Kaepernick's contract ran out in 2016, he hasn't found another NFL team with many linking that to his protest, which has been called out by president Donald Trump.
Kaepernick was referenced in Big Bank by YG ft. 2 Chainz, Big Sean and Nicki Minaj, which is one of the songs on the game's licenced roster. When it hit, many noticed that a line referencing Kaepernick ("You boys all cap, I'm more Colin Kaepernick") had been edited so Kaepernick's name had been censored out. Artist Big Sean tweeted his displeasure at this move saying:
It's disappointing and appalling @NFL & @EA took @Kaepernick7's name out of my verse on Big Bank for Madden 19, like it was a curse word. When he's not a curse, he's a gift! Nobody from my team approved any of this.

— Sean Don (@BigSean) August 2, 2018
YG himself also responded, saying he supports Kaepernick and he wanted an apology from EA:
EA did respond, saying that it was a mistake on their part. They say the mix-up came because the publisher didn't have rights to include Colin Kaepernick as a player and assumed that went for references on the soundtrack too. the full statement reads:
We made an unfortunate mistake with our Madden NFL soundtrack. Members of our team misunderstood the fact that while we don't have rights to include Colin Kaepernick in the game, this doesn't affect soundtracks. We messed up, and the edit should never have happened. We will make it right, with an update to Madden NFL 19 on August 6 that will include the reference again. We meant no disrespect, and we apologize to Colin, to YG and Big Sean, to the NFL, to all of their fans and our players for this mistake.
To compound the issue, this is the second year in a row Kaepernick's name had been scrubbed from a song with Madden 18's Bars Of Soap by Mike WiLL Made-It also having a reference wiped ("She be hopin' that I take a knee like Kaepernick, yes.")
Kaepernick's name will be reinstated in the song in Madden 19 in an upcoming patch.
Enjoyed this article? Share it!