Magic: The Gathering Art Focus: Carl Critchlow's Overgrown Works
Hello there, fans, players, and collectors of Wizards of the Coast's premier trading card game, Magic: The Gathering! Recently, we took a look at artist Seb McKinnon's works of art as they've featured on Magic cards in the past, and now we wish to take a look at Carl Critchlow's pieces, commissioned for cards in the popular hit card game. Now, depending on a few factors, you may be seeing this article either before or after another article on Bleeding Cool about Critchlow's works. In the other article, we spoke about his works regarding death and artifice. Today we will be giving a good look at his more lively, naturalistic pieces of art.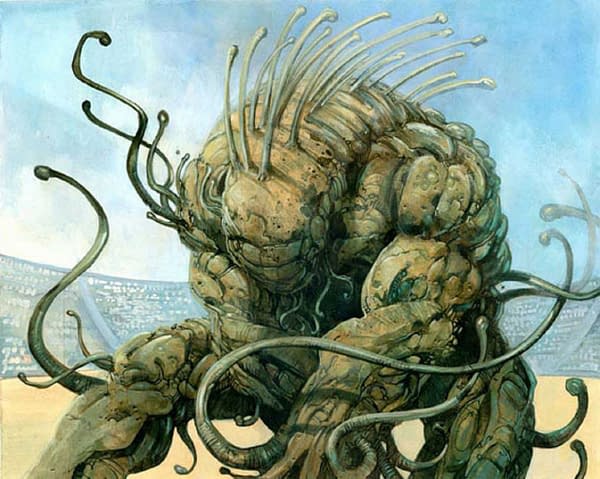 If you have fond memories of the Odyssey and Onslaught blocks, you are likely to know Carl Critchlow's name from his art appearing on many different cards depicting various beasts and elementals. The above art is that of Silvos, Rogue Elemental, one of the legendary pit fighters from Otaria, and, at the time, one of the strongest creatures in the game numbers-wise. Another one of those famous cards that Critchlow had done was Call of the Herd from Odyssey, a sorcery which summoned an Elephant token or two and featured readily in a fair few tournament-viable decklists of the time.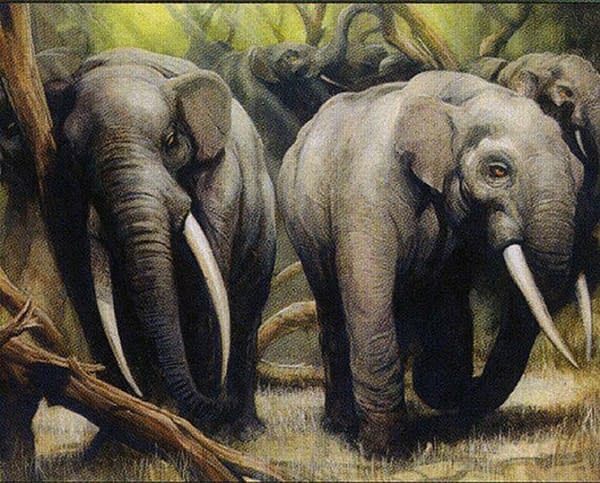 The overgrowth and livelihood doesn't stop at his green-aligned cards, though. Looking further into his work, life can be found virtually anywhere in his works in the other colors of Magic, even black.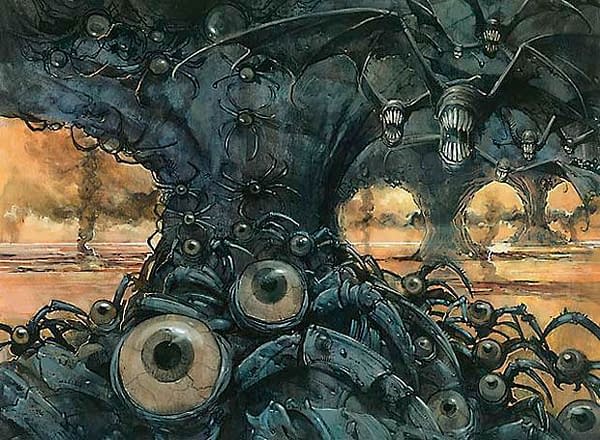 Even looking at his more surreal works such as his artwork for Underworld Dreams used from Eighth Edition all the way to Core Set 2010, life teems in the art. Sure, it has a bunch of eye-spiders and tooth-bats, or whatever kind of nightmares these creatures may be, but it's life all the same. And speaking of Nightmares…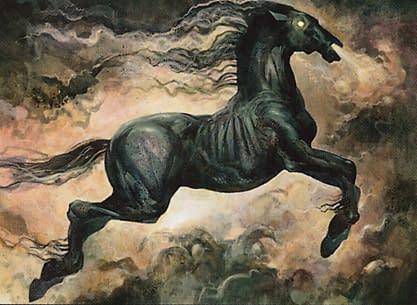 For such an otherworldly creature, Nightmare's musculature ripples with equine strength. A truly fearsome horse! All in all, Carl Critchlow's style is distinct, painterly, and ultimately iconic. If you wish to peruse more of his work you may do so on his website by clicking here. If it appeals to you, let us know in the comments below!