Make Your Castle A Proper Home In Castle Flipper
Gaming Factory has revealed their latest simulation game as you will be able to turn a castle into a proper mansion with Castle Flipper. As you may have suspected, it's House Flipper, but with castles. Not very imaginative in concept, but they have transformed the game into a medieval construction lover's paradise as you'll take run-down castles and give them new life. The game is set to be released on May 27th on Steam.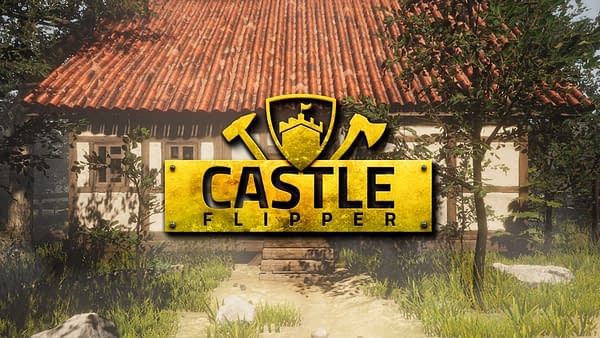 Castle Flipper takes place at the turn of the 16th and 17th century, which is of significant importance to the decor and renovation options gamers will have at their disposal. Next to the usual medieval buildings, they will also be able to find some baroque and renaissance elements that will add variety to the gameplay and give players more options for interior decoration. Become a medieval builder – build your own kingdom and customize it to your liking. Start with your own inherited piece of bare land, then work as a craftsman to clean, repair, build, and decorate medieval, renaissance, and baroque buildings and castles. Visit beautiful locations, work hard, and maybe one day the saying "my home is my castle" will have a literal meaning to your royal self.
Explore new locations. The piece of land you've inherited is only the beginning. Complete quests, and you'll get the chance to visit many beautiful lands, filled not only with castle chambers to repair but also sheds, barns, huts, houses, mansions, palaces, and even pirate ships!
Become a designer. Building your castle from scratch is one thing. It's another thing entirely to make sure its interiors and exteriors are equally impressive. Choose and plant trees in the courtyard and place animals in the crofts. Decide on the shapes and designs of flags and pennants, and make sure your creation will be one of a kind.
Build, demolish, repeat. Some designs look great on paper but fail to impress in real life. So, what if you're not happy with your work? Destroy what you've built, see how everything collapses spectacularly, and then start all over.
Manage reconstruction. Building your own castle is a completely different challenge from renovating something that was once a castle. It'll take a lot of effort to rebuild destroyed walls or repair shattered walls, bridges, or towers. You'll have to take a completely different approach to bring the conquered castle back to its former glory.