FoxNext Games has a new update released today for Marvel Strike Force, bringing in a new set of brawlers for you to pair up with. You'll get two familiar faces in Cyclops from the X-Men and Symbiote Spider-Man in all his Secret Wars glory. But with them, you'll also be picking up Karnak and Crystal from Inhumans to aid you on the battlefield. You can read up on all four here along with some action trailers for the new Inhumans additions.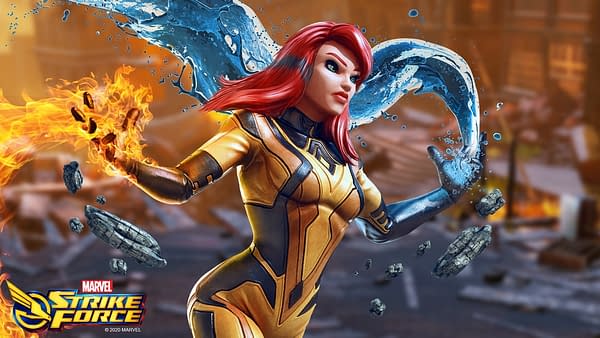 Cyclops, a heavy damage Blaster for the X-Men Team. In battle, Cyclops rallies the X-men team to incinerate enemies with optic blasts and unleashes a devastating singularity attack. If Cyclops' ally Phoenix falls in battle, he'll become even more powerful during subsequent attacks.

Crystal, an Elementalist for the Inhumans team who can dish out powerful Area of Effect damage against her opponents. Her Ultimate ability stuns all summoned units, making it much easier for teams with Crystal to single out higher priority targets during battle. If Crystal or an Inhuman teammate falls low on health, she can heal the afflicted and clear some of their debuffs.

Karnak, a Controller for the Inhumans team and skilled fighter in martial arts. His specialized skills allow him to cripple enemy movement and expose their weaknesses, allowing for his team to zero-in on enemies as they're weakened.

Symbiote Spider-Man, the newest addition to the Spider-Verse and Symbiote squads. With the ability to cast a giant web over his opponents, Symbiote Spider-Man can stun one primary target while slowing any other enemies hit by his powerful attacks. Additionally, Spider-Verse and Symbiote allies can be healed every time a debuff is applied to an enemy.
Enjoyed this article? Share it!