Looks like Marvel Ultimate Alliance 3 titled "The Black Order" is coming soon exclusively to the Nintendo Switch!  It's been nearly 10 years since the previous installment was released, and "The Black Order" is being developed by KOEI TECMO GAMES/Team NINJA, and published by Nintendo.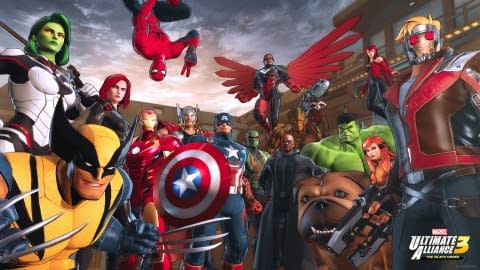 Nintendo's official synopsis of the game:
MARVEL ULTIMATE ALLIANCE 3: The Black Order brings together Super Heroes and Super Villains from across the Marvel Universe to battle for the limitless power of the Infinity Gauntlet, one Stone at a time. This unprecedented team of characters must use their unique superpowers to defeat the mad cosmic tyrant Thanos and his ruthless warmasters, The Black Order. The game will feature an original story and a playable cast of dozens of Marvel Super Heroes, including the Avengers, the X-Men, and—for the first time in series history—the Guardians of the Galaxy.
Marvel Games Vice President & Executive Producer Mike Jones said of the release:
"As longtime fans of the franchise, we could not be prouder and more excited to bring back ULTIMATE ALLIANCE with its biggest game yet. MARVEL ULTIMATE ALLIANCE is all about teaming up with your friends and creating your own 'dream team' of Super Heroes to go on adventures across the Marvel Universe, and Nintendo Switch is perfect for delivering on that promise of cooperative gameplay and shared experiences."
Check out the trailer:
Doug Bowser, Nintendo of America's Senior Vice President of Sales and Marketing said:
"The MARVEL ULTIMATE ALLIANCE games have been beloved by fans for more than a decade, and this new installment on Nintendo Switch will deliver even more of the thrills and heroics that the franchise is known for. Thanks to our partnership with Marvel, the fate of the Marvel Universe will literally be in the hands of Nintendo Switch players, whether they're at home or on the go."
Enjoyed this article? Share it!