There's a certain portion of gamers who want to have a much more immersive experience, but don't feel like diving into a headset or throwing on a VR visor. A simple light show will do them fine. Logitech recently created a set of speakers that just might do the trick with the G560 Lightsync Gaming Speakers. But how well does this system compare to whatever you may have hooked up to your tower now? We plugged them in and gave the system a shot with everything we had.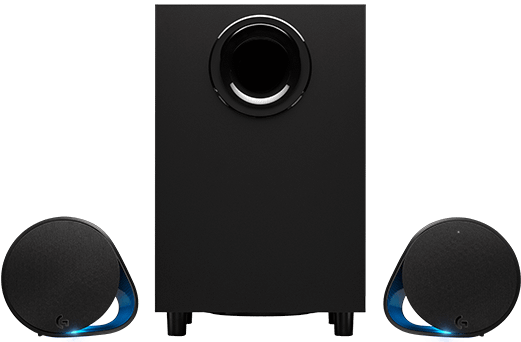 First off, this is probably one of the simplest sets of speakers Logitech has on the higher end of their audio systems, as this is just two speakers and a subwoofer. Not a lot of setup as the speakers plug into the subwoofer, which connects to your tower using only a 3.0 USB. That's it! There's also an auxiliary port for a 3.5mm jack, which we'll cover in a second. The system works with your gaming software to a degree as you can set the RGB lighting that is set in both speakers, giving you a sense of personalization to match your keyboard and mouse light settings (if you're using all G products from the company). The right speaker contains a power button, as well as a manual adjustment for volume. I loved everything about this setup because it required very little effort to put things in place and get them set to what I needed.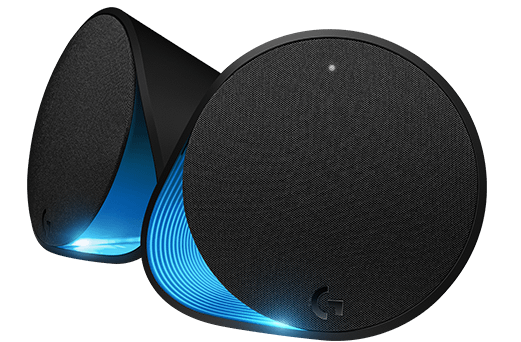 The big selling point to this game is that it interacts with whatever games you have on your PC, and in essence, is setting up mood lighting for wherever you may be. A perfect example of this is Overwatch where the color changed as the levels were picked, from yellow to Numbani to dark blue for King's Row. When I was running or under fire, the colors would change to react to what happened, even giving a flash of red when I died. In Fortnite, the colors would strobe as I shot my weapons, keeping in beat with the rounds as they went off, giving a little bit of gold when I picked up new items, even going purple when I was caught in the storm. These speakers basically give you a much more ambient experience in your home as you play without using much more than sensory input from the game to dictate what happens. I even changed the colors out to be just a solid green no matter what I was doing, and they still responded.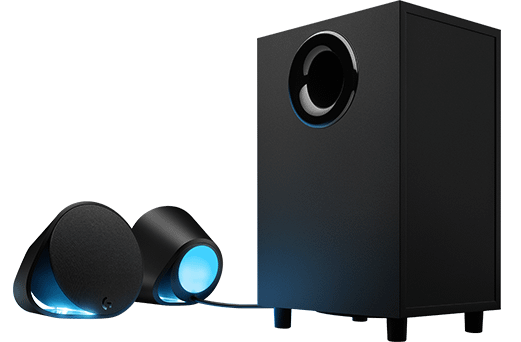 I gave the system a few extra experiments, which included hooking it up to my consoles and my Roku TV. While the audio was amazing and the colors rotated through the rainbow, it didn't respond to anything that was happening on the screen for the Switch, Xbox One, or PS4. I even tried the Bluetooth connection with the PS4 and got nothing. Meaning if you want the full experience of the colors, it has to be done on a PC. Speaking of the Bluetooth, it worked well when I paired up my iPhone to play back music. The 3.5mm jack also worked well to hook up retro systems and use the speakers on some old-school titles. As a stereo system, if you're not all that concerned with the colors, it's still pretty sweet.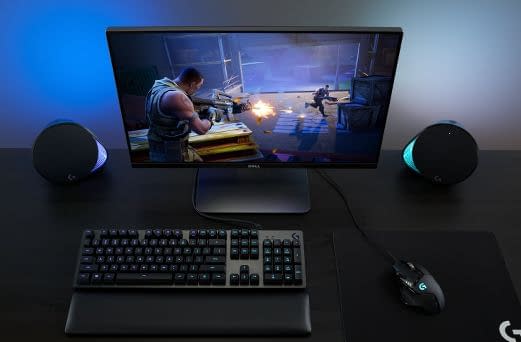 Overall, I had a lot of fun playing PC games with the G560 speakers hooked up. They brought in a different experience I wasn't expecting and added some life to a couple games. The only drawback for some will be the price, which is about $200 at the moment. These are quality speakers that you'd probably pay $150 for at a box store, so the extra $50 is going to the interactive light show. This is a set for people who want some flash with their game, and it works very effectively to do just that. If you don't need the light show, probably not quite the best for you, but they're still a great set of speakers.
Enjoyed this article? Share it!