Nanoleaf Reveals The New Screen Mirror Light Panels
This morning, Nanoleaf introduced their latest addition to their array of light panels with their new Screen Mirror lights. This is a brand new setting that works with the app to create a reflection of light on your Light Panels and Nanoleaf Canvas. As you can see from the images below, the new system is designed to create an immersive theatre-like experience. Designed to create a multi-sensory experience based on what you're viewing or playing. The system is designed to work with home entertainment like movies and television, as well as interactive entertainment like video games for console or PC. We have a little more info for you below, along with screenshots and videos of it in action. And you can read more about the product here. Hopefully, we'll get some Canvas lights down the road to review it for you.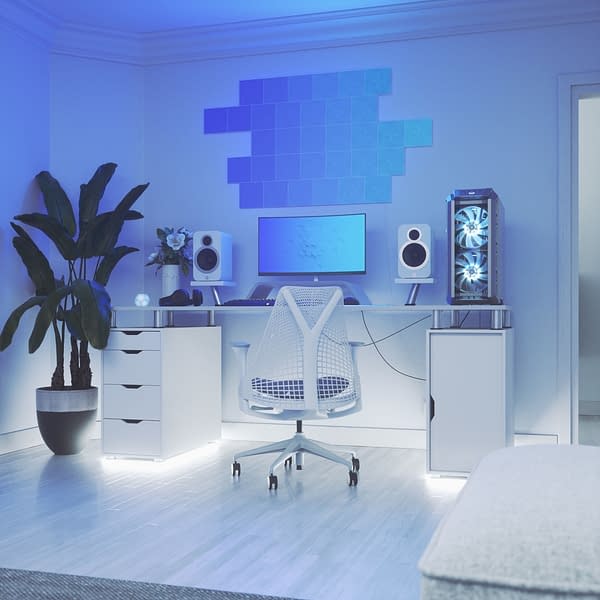 Transform Your Entertainment

Nanoleaf's Screen Mirror has four visual modes to fit different moods and occasions. Choose 'Match' mode to amplify an adrenaline-filled action movie, transporting you from your couch and right into the scene; or try the more subtle 'Melt' to subtly transition between sequences when you're watching an art house film filled with rich color palettes.

Step Into Your Favorite Movies and Games with Nanoleaf's Screen Mirror | 2 Gaming is also transformed with Screen Mirror, taking battles and scrimmages to a 4D experience that envelopes the entire room. Take your entertainment from a mere screen setup to complete surround vision that captivates all of your senses at once.

Customize to Your Mood

Users can personalize their movie and gaming experience even more with layout rotations. Create dramatic visuals by flipping the mirrored effect upside down for a stunning contrast on your Nanoleaf lighting layout.

Screen Mirror is controllable using the new Nanoleaf Desktop App (beta). With the Nanoleaf Desktop App, you can control your Light Panels or Canvas right from your computer (Mac and Windows)*. Simply download the Nanoleaf Desktop App to get started. The Desktop App was designed to offer more convenient controls, simplifying the management of larger installations and to streamline control of many different layouts at once. It also has an offline mode for control, so your Nanoleaf lights will always be accessible (even if Internet isn't).