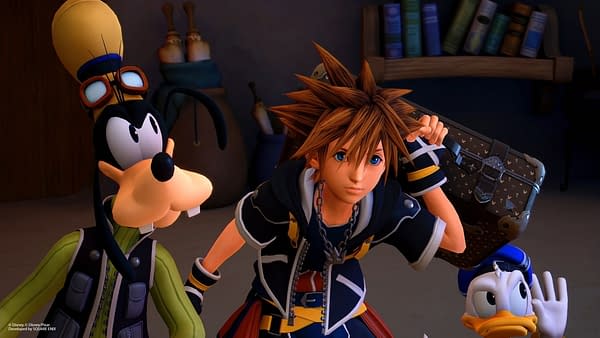 UPDATED:
Square Enix has revealed the changes made to Kingdom Hearts 3 with the Critical Mode update, including the various tweaks players will see to their gameplay to make Critical mode even harder than before.
According to the press release put out by Square Enix today, the changes include:
Critical Mode will challenge even the most skilled Keyblade wielder to be more tactical as they battle formidable foes. In this new mode:

Maximum HP and MP are halved
The frequency of situation commands and magic is lowered
Sora can perform new abilities exclusive to this harder difficulty mode

Additionally, this update adds the feature for players to carry over their Keyblades to a new game. Keyblades that are carried over will return to their default strength, but through this optional feature, players can utilize Keyblades otherwise not obtained until later in the game from the beginning.
Looks like Kingdom Hearts 3 is getting a free DLC update today, which will add a new challenge mode difficulty level for those who found the game a bit too easy even on hardmode.
Director and Poducer Tetsuya Nomura made the announcement on the official Kingdom Hearts twitter account, saying the Critical Mode update will launch for free today.
Greetings, it's been a while since I last posted. Spring is here, and I hope everyone is doing well. #KingdomHearts III's long-awaited Critical Mode is available as a free update tomorrow (PT).

We've changed things up from the previous games, so I hope you enjoy – Nomura pic.twitter.com/Npz8FeKmCK

— KINGDOM HEARTS (@KINGDOMHEARTS) April 22, 2019
The Critical Mode has been the Kingdom Hearts series hardest difficulty level for several installments, and plenty of fans were sad to see it omitted from KH3 at launch. The mode has had a few different formations, previous versions have dialed down players ability to recover AP and HP, or by increasing the damage taken and dealt.
This is one of KH3's first major DLC packs, which will come in both free and paid varieties. However, we don't have any specifics on what those content updates will entail, though certainly fans have plenty of ideas including major story expansions.
Enjoyed this article? Share it!