Nintendo Releases "Dragon Quest" Hero Into "Smash Bros." Today
Nintendo pulled a bit of a surprise on everyone today by releasing the Hero from Dragon Quest earlier than expected into Super Smash Bros. Ultimate. Originally, it looked like they had slated the release for August 4th to happen at the end of EVO 2019, but the news came down today that the character is available right now! During this morning's stream to show off the character, not only did we get to see Yggdrasil's Altar stage and several orchestrated music tracks from classic Dragon Quest games, we got to see all the different Hero skins you can use.
We have a quote below along with more information on every Hero added to the character. If you have the Fighter Pass or the Challenger Pack 2, you already have access to the character and all the additional materials. If not, it'll cost you $6 for everything.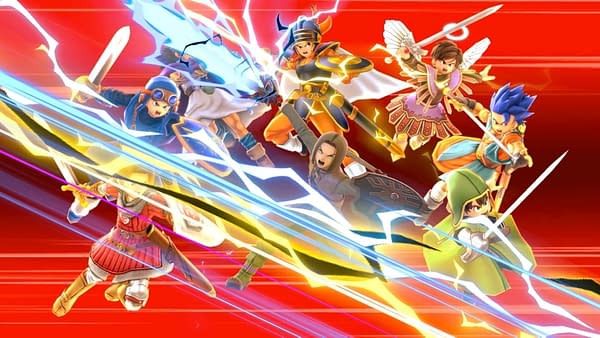 "With the introduction of fan-favorite characters like Hero from the Dragon Questseries to the game's expanding roster, Super Smash Bros. Ultimate continues to assemble the largest cast of iconic video game characters ever," said Nick Chavez, Nintendo of America's Senior Vice President of Sales and Marketing. "We love being able to engage Super Smash Bros. Ultimate fans through a steady release of exciting downloadable content, and look forward to continuing to expand on players' game experiences on Nintendo Switch beyond launch."

Hero enters the arena equipped with a sword and shield, and wielding familiar Dragon Questspells like "Frizz," "Zap" and "Woosh." The character comes with additional alternate character designs that represent the main characters from several games in theDragon Quest series. He can take the form of the protagonists from Dragon Quest XI S: Echoes of an Elusive Age – Definitive Edition, the latest Dragon Quest title coming to Nintendo Switch on Sept. 27; Dragon Quest III: The Seeds of Salvation; Dragon Quest IV: Chapters of the Chosen; and Dragon Quest VIII: Journey of the Cursed King. This is the first time ever that all four heroes from these Dragon Quest games are fighting together.