Overwatch 2 Reveals Season 3 Details Before Tomorrow's Launch
Blizzard Entertainment has revealed what's to come for Season 3 in Overwatch 2, including an all-new map and several events.
---
Blizzard Entertainment dropped all the details for Season 3 of Overwatch 2 before they launch it on February 7th, 2023. First off, you're getting an all-new map as we're headed to Mei's base with the Antarctica Control map. You're also getting a new Asian Mythology theme and Battle Pass with a Mythic Kiriko skin, as you can see below. There will also be an Ultimate Valentine's in-game event featuring a browser-based Overwatch Dating Simulator: Loverwatch. Not to mention a crossover event with One Punch Man, the return of PachiMarchi in March, and a ton of other updates. returns in March! We have more info on the events below, as you can read their latest blog for what's to come.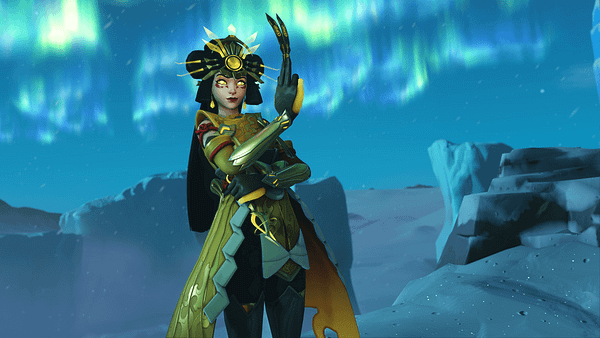 Loverwatch Dating Sim (Feb. 13-28) & Ultimate Valentine's Event (Feb. 14-28)
Can you feel the love? Our Ultimate Valentine event kicks off on Valentine's Day this year with a Hanzo 4v4 Limited Time Mode and Support-themed challenges that can net you two earnable epic skins, among other rewards. In another first for Overwatch 2, don't miss out on the Loverwatch dating simulator, which launches on February 13! Loverwatch is a non-canon text-based dating sim where players will choose between two potential dating paths: Mercy or Genji. Players will be presented with dialogue options to interact with that hero and will be assisted by Cupid (who looks suspiciously like Hanzo). Unlock the secret ending, and you'll be rewarded with a themed POTG Highlight! Once live, Loverwatch will be accessible at https://www.Loverwatch.gg and available on web clients only. The experience will be playable until February 28 in Korean, Japanese, Spanish, German, French, and English. The full playthrough lasts roughly 30 minutes.
Overwatch 2/One-Punch Man Collaboration (March 7 – April 6)
100 pushups, 100 sit-ups, 100 squats, and a 10-kilometer run! Every single day! We're excited to announce that we've been working with Japanese Anime "One-Punch Man" on our first-ever major IP collaboration for Overwatch 2 to bring One-Punch Man skins and cosmetics to the game this season! Together we've created a collection of cosmetics from the beloved anime, including Saitama skin for Doomfist. We'll reveal each item before they drop on March 7, with one being a Legendary skin that's earnable via themed challenges.
PachiMarchi Returns (March 21 – April 4)
PachiMarchi is back with a new limited-time Kill Confirmed game mode and a ton of rewards, including an epic skin, six PachiMarchi player icons, a weapon charm, and name card! Claim a PachiMarchi Roadhog player icon just logging in during the event, and complete themed challenges to earn an Epic Pachimari Roadhog skin before the event ends on April 4.