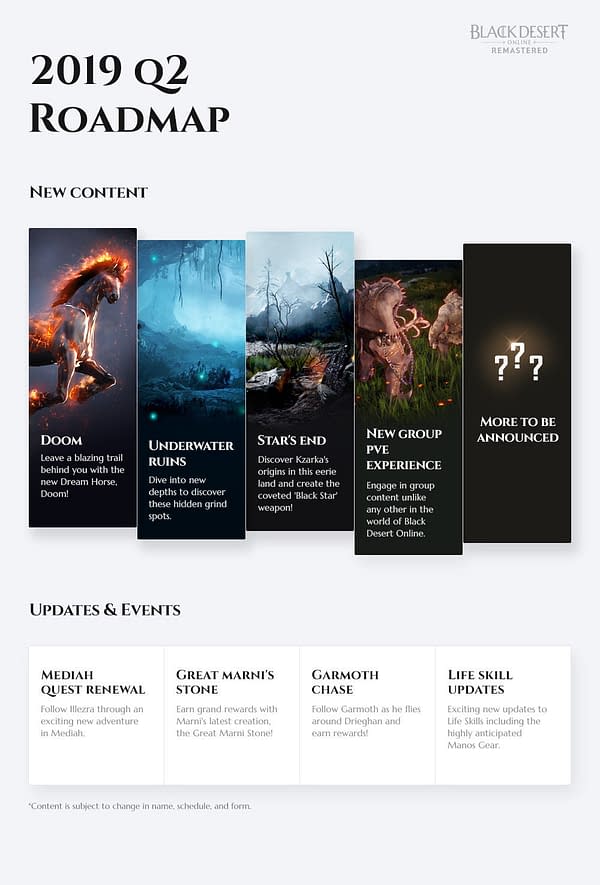 Developer Pearl Abyss has announced their 2019 development roadmap for Black Desert Online, and the planned updates will introduce a ton of new content and activities into the MMORPG over the next few months. The planned content updates will include new exploration zones, new mounts, new weapons, and a new PvE experience.
Although the exact dates are still being determined, Pearl Abyss and Kakao Games are planning to bring the update content to Western audiences by the end of this quarter. So, sometime by the end of June. Update highlights include:
Doom, a new hellish Dream Horse that will only accept the fiercest of riders. It is a true achievement for those who are diligent enough to harness their horse breeding skills. This new dream horse will be available next week.
Underwater Ruins, These mysterious ruins can be accessed from a secret rift that exists deep down in the Ocean and contains high-level areas with new monsters and a field boss to boot.
Star's End is a new region that will be key to unlock the ultimate prize, the infamous BlackStar Weapon. Only the most dedicated, most bravest of adventurers will be able to wield it.
A brand new experience will add new group based content to Black Desert Online which will introduce a different type of PvE than what players have seen so far.
Additionally, smaller changes will be made to the game to keep players engaged and improve on the overall quality of Black Desert Online. The Mediah Quest Renewal will update most activities in the Mediah region, including background lore and the quest storyline to provide a more immersive experience for players. The Garmoth Chase update will have players follow the fearsome dragon around Drieghan.
There will also be plenty of seasonal events coming, starting with Mystical Ellie's Water Festival today. You can start the spring event on Terrmian Beach to take part in some water balloon popping, fishing, and earn seasonal rewards.
Enjoyed this article? Share it!