Pinball As A Card Game! Super-Skill Pinball: 4-Cade
When you think of pinball, you likely think of big machines, flippers, and those beautiful playfields that take your little silver ball on an adventure. Pinball is without a doubt my favorite thing ever, as the game is celebrated daily in my own home. Can't afford a full machine? Maybe you don't have the room — or a local arcade with a few machines. WizKids has figured out a solution to that problem with their Super-Skill Pinball: 4-Cade print and play tabletop game.
Acclaimed designer Geoff Engelstein designed this game with players who don't have easy access to pinball in mind. Designed for 1-4 players, this game will take around 30 minutes to complete. This game is fully interactive and highly imaginative — and perfect for players of all ages. The game uses dice and tokens throughout the game, so if you're looking for an excuse to buy a new set of dice, this is it! This game features all the bells and whistles you would expect from a real pinball machine, including multiball, bumpers, high scores, and of course great art!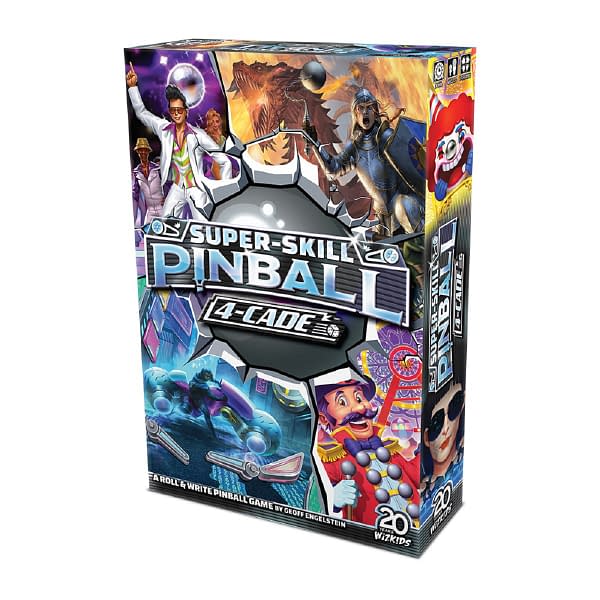 Players can pick from four unique games in Super-Skill Pinball: 4-Cade;
Carniball – the intro table, where you'll shoot ducks, pop balloons, and ring the bell in the test of strength!

Cyberhack – steal data from an evil corporation! Get past the corporate firewall! Avoid getting traced in the RUN push-your-luck mini-game!

Dance Fever! – return to the '70s! Heat things up in the Disco Pinferno mini-pin table! Hit the dance floor and get the Boogie Bonus!

Dragon Slayer – take on the role of a powerful Wizard! Hit targets to level up your spells! Magically manipulate the dice and trigger bonuses. Defeat the dragon to score mega points!
I personally can't wait to get my own copy of this game, which is due out on September 30, 2020. Super-Skill Pinball: 4-Cade will retail for $24.99, making this an affordable way to play pinball! Still want to learn more? Check out this demo video from Engelstein himself!