Pinball FX3 Is Getting Jurassic Park and Jurassic World Boards
It's been announced that Jurassic Park and Jurassic World are getting three boards in Pinball FX3.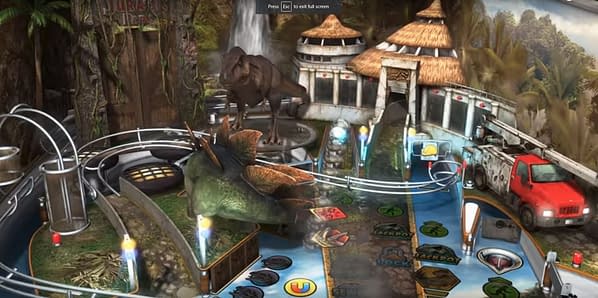 Pinball FX3 has an embarrassment of licence agreements. From Marvel to Star Wars to Bethesda games, the number of pinball tables the game sports is, frankly, bonkers. There's plenty there to tickle your nostalgia and also please your modern sensibilities, all to the great experience of a pretty decent pinball game. If you like to play pinball but have never picked up the game, you really must.
It's collection of IPs is about to grow even bigger too. Zen Studios has announced that it is adding three tables based on the Jurassic Park licence on February 20th, 2018. Two tables will be based on Jurassic Park (one table, the Mayhem one, features new scenes not from movies), while a third features the more recent Jurassic World. These boards, of course, come with all sorts of animated assets and pay homage to various scenes in the film. If you want a real nostalgia hit, this is the place. Check it out in this new trailer:
The boards will be coming on all current consoles, PC and mobile too. As I said, if you've checked the game out, it's worth it if you have a passion for Pinball. On top of big cinematic tables you can only achieve in games, they have some classics from the real world too. Why not take a look and see if they have that table you used to love? Have at it.