DeNA officially started up their own event in Pokémon Masters today as we get a few new additions, but mostly decoration and costumes. We have the full set of additions for you below, including a new look for the Pokémon Center, a story event that kicks off on December 23rd, and some special bonuses just for logging in.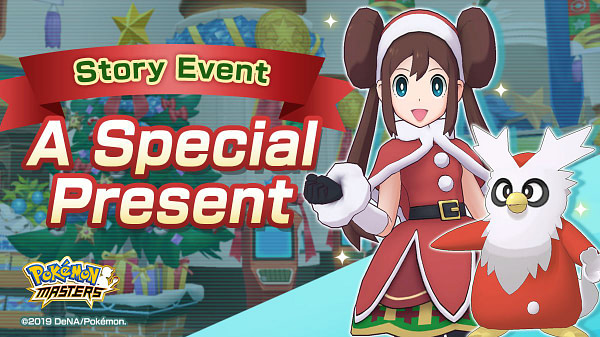 See Trainers In Festive Outfits – Throughout the holiday season, players will have the opportunity to see sync pairs Rosa & Delibird and Siebold & Octazooka in festive outfits that are exclusive to Pokémon Masters. These sync pairs will be available to add to players' teams from now until December 31, 9:59PM Pacific via a limited-time seasonal sync pair scout. They may also make cameos in other areas of the game in the future.

Explore the Holiday-Themed Pokémon Center – An in-game story event titled "Rosa's Party" will allow players to experience the Pokémon Center in a whole new way – fully decorated for the holiday season! Players will also be able to embark on an adventure with Rosa to throw a party and bring some holiday cheer to Pasio. Rosa & Delibird can also be challenged in co-op mode to obtain special items used to upgrade sync pairs. This in-game event is available now and runs until December 31, 9:59PM Pacific, and is available to players who have completed Chapter 5 of the Main Story.

Story Event – "A Special Present": Players who complete the in-game event "Rosa's Party" will have the option to continue the story and earn up to 1,000 gems by playing "A Special Present", a very limited-time story event that will run from December 23 10:00PM Pacific to December 24 9:59PM Pacific.

Login Bonuses: Players who login from now until December 25 9:59PM Pacific will have the opportunity to earn Evolution Crystals and up to 3,900 gems.