Posted in: Card Games, Games, Pokémon TCG, Tabletop | Tagged: Paldea Evolved, pokemon, pokemon cards, Pokemon TCG, Scarlet & Violet
---
Pokémon TCG Early Opening: Paldea Evolved Elite Trainer Box
It's time for a special opening of a new product. We have a Pokémon TCG Early Opening: Scarlet & Violet - Paldea Evolved Elite Trainer Box.
---
We are just one day away from pre-release events of the next Pokémon TCG expansion, Scarlet & Violet – Paldea Evolved. This is the second set of the Scarlet & Violet era, which has begun introducing Paldean Pokémon to the hobby for the first time. This era has made major changes to aspects of the Pokémon TCG that have been considered the norm for decades. For example, yellow borders and set symbols are out, replaced with silver borders and set codes to better match Japan's sets. The mechanic of this new Paldea-focused era is the Pokémon ex and Tera Pokémon ex. In these sets, Secret Rares include Full Arts (formerly counted within the set numbering, but now officially out of it), Illustration Rares, Special Illustration Rares, and Gold Hyper Rares. Scarlet & Violet – Paldea Evolved adapts three Japanese sets into this English-language expansion: the Paldean Starter-focused Triplet Beat and the Treasures of Ruin-focused Clay Burst and Snow Hazard. Clay Burst has been of major significance in Japan due to a highly coveted Iono Special Illustration Rare Trainer Supporter that depicts this new Gym Leader/Streamer with Pokémon plushies. Will the same hype for this card set this set ablaze in America? Well, The Pokémon Company International was kind enough to supply us with new Scarlet & Violet – Paldea Evolved products so we can give you an early peek of this set before it blows up. These products include a Scarlet & Violet – Paldea Evolved booster box, a Scarlet & Violet – Paldea Evolved Elite Trainer Box, and a Scarlet & Violet – Paldea Evolved Build & Battle kit. In this installment of our three-part early opening, we'll be opening the Elite Trainer Box.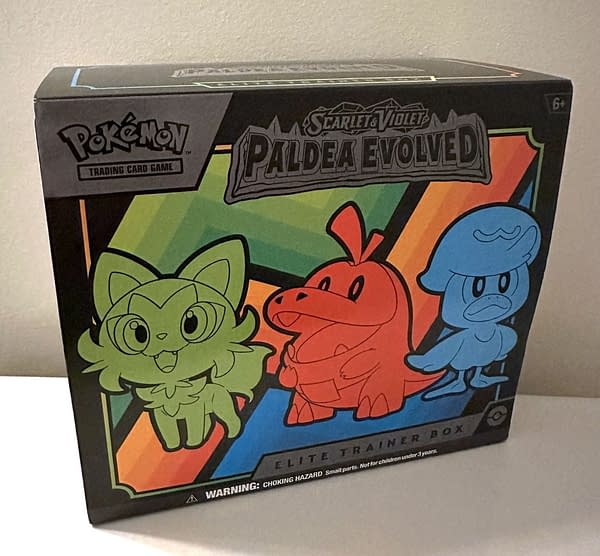 The Elite Trainer Box art focuses on the Paldean Starters. I like how we're getting the actual first form of the Starters here rather than their evolutions. I feel as if the Pokémon TCG has a better and better grasp on the fact that a lot of what many collectors want is cuteness. Yes, we'll take the badass Charizard cards that we know will come in droves, but this? This, I need more of.
There have been changes to Elite Trainer Boxes during the Scarlet & Violet era. They now include nine packs rather than eight and come with a SV Black Star Promo. This time around, Scarlet & Violet – Paldea Evolved Elite Trainer Boxes feature a Pikachu Illustration Rare as the promo card. We'll take a look below.
My hits included:
1 Pokémon ex
1 Full Art Pokémon ex
For an Elite Trainer Box, this is a decent showing. Any ETB that yields a Secret Rare is solid. It does burn a bit that the reverse holo slot didn't active into any Illustration Rares, but with nine packs, your odds are truly unpredictable.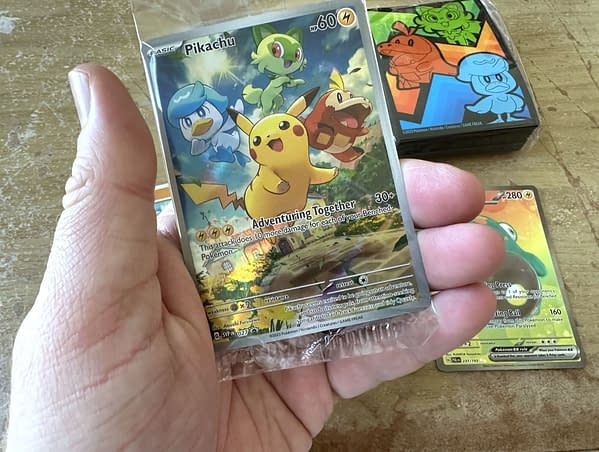 The Pokémon Company International has made it so even a less exciting haul from an Elite Trainer Box is exiting. The premium Illustration Rare promo cards in the ETBs make it worth the cost of the box, and this specific Pikachu is potentially my favorite card of the era so far. My only gripe is the continued use of matte sleeves, which fog the artwork. If there is one more aspect of Japanese sets that the English-language expansions will adapt, I pray it'll be Japan's velvety treatment of card sleeves.
Be sure to check Bleeding Cool every day to follow our in-depth Pokémon TCG coverage as we explore the hobby's past, present, and even future with upcoming set reveals.
---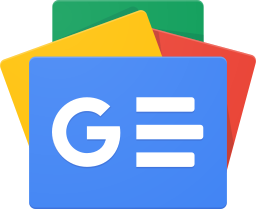 Stay up-to-date and support the site by following Bleeding Cool on Google News today!