Pokémon TCG Japan Releases Scarlet Ex & Violet ex Sets
Pokémon TCG Japan releases the new Scarlet ex & Violet ex sets, which kick off Generation Nine cards with new card types and Secret Rares.
---
It's a big day for the Pokémon TCG. While the special set Crown Zenith is released today for English-language collectors, Japan is moving into the next era two months ahead of the rest of us. Pokémon TCG Japan will release two sets today January 20, 2023, that kick off Generation Nine and bring Pokémon and Trainers from Paldea to the Pokémon TCG. These two sister sets are Scarlet ex and Violet ex. These sets and as well as three 60-card Starter Set ex decks will be the basis of the English-language set Scarlet & Violet base coming out internationally on March 31, 2023. English-language collectors should key into these sets because English sets will start to closely mirror Japanese sets, using silver borders and set codes instead of set symbols. Japan's Scarlet ex and Violet ex sets also see the return of the original lowercase ex card type as well as the debut of the Terastal ex card type that will replace Vs and VMAX as the Double Rares of this generation. We also now know that Art Rares and Special Art Rares, a card type that debuted in Crown Zenith, will return with this set, with ex cards being the mechanic we'll see on SARs. English-language sets will refer to those as Illustrator Rares and Special Illustrator Rares. Let's take a look at what will be some of the biggest cards of the set.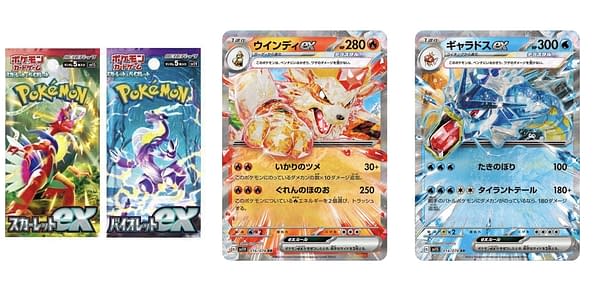 Each set will include one Tera ex card. As you can see, Arcanine ex and Gyaradose are those Tera forms. These will both appear in the English-language Scarlet & Violet base. While standard ex are not textured, the Tera ex are textured. Think V versus VMAX.
Let's see some of the bigger chase cards.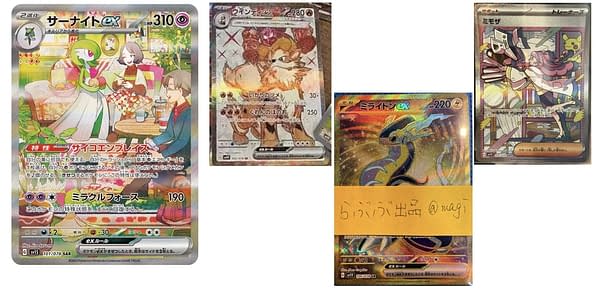 Here are four types of Secret Rares that can be pulled. All the way left is the Gardevoir ex Special Art Rare, which will have texture and connects to a story told in the Ralts and Kirlia cards. Full Arts of this era will use a green linework, continuing the theme of different eras using a single line color for this card type (Gold for XY, Blue in Sun & Moon with Red for Ultra Beasts, and Silver for Sword & Shield). The exception are the silvery Tera ex Full Arts which you see above with Arcanine ex. The red stars in the background change based on the Pokémon's Tera type. Miraidon ex is seen on a Gold Secret Rare here which is the same style as previous Gold Secret Rares. I hope we see Shiny Pokémon return to this card type. Finally, the card all the way right is a Miriam Special Art Rare, which is essentially an Alternate Art for Trainers. Rainbow Rares are gone.
Japanese sets often give us early ideas of what the English-language sets may include, so be sure to keep an eye on our coverage. You can stay tuned for previews of VSTAR Universe cards as well as updates on everything Pokémon TCG right here at Bleeding Cool.