Pokémon TCG Japan: Scarlet & Violet Ex Preview: Fidough Line
Pokémon TCG Japan: Scarlet ex has been released and it features the first-ever Fidough and Dachsbun cards as the new generation rolls out.
---
It's time for a new era. Pokémon TCG Japan has released two sets that kick off Generation Nine and bring Paldean Pokémon and Trainers to the Pokémon TCG for the first time. These two sister sets are Scarlet ex and Violet ex. These sets and as well as three 60-card Starter Set ex decks will be the basis of the English-language set Scarlet & Violet base coming out internationally on March 31, 2023. Starting with these sets, English-language versions of the sets will now more closely mirror Japanese expansions, using silver borders and set codes instead of set symbols. Scarlet ex and Violet ex also see the return of the original lowercase ex card type as well as the debut of the Terastal ex card type that will replace Vs and VMAX as Ultra Rares. We also now know that Illustrator Rares and Special Illustrator Rares, a card type that debuted in Crown Zenith, will return with this set, with ex cards being the mechanic we'll see depicted. Today, let's take a look at a new species getting its first card in the Scarlet & Violet era.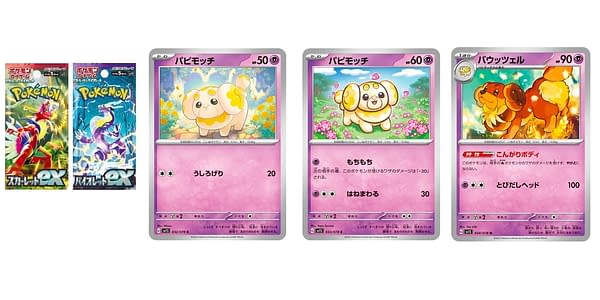 Fidough was one of the first Pokémon to be revealed in Scarlet & Violet gameplay footage. Fidough is a Fairy-type Pokémon inspired by canines and baked goods. Fidough evolves into Dachsbun, both of whom get their first cards in Scarlet ex. Let's take a look at their Dex entries so we can get to know them better.
First, the base form of Fidough:
This Pokémon is smooth and moist to the touch. Yeast in Fidough's breath induces fermentation in the Pokémon's vicinity.

The yeast in Fidough's breath is useful for cooking, so this Pokémon has been protected by people since long ago.
Now, the evolution, Dachsbun:
The pleasant aroma that emanates from this Pokémon's body helps wheat grow, so Dachsbun has been treasured by farming villages.

The surface of this Pokémon's skin hardens when exposed to intense heat, and its body has an appetizing aroma.
Fidough gets two cards in Scarlet ex, with the first card to the left drawn by Mizue, who accentuates the Pokémon's color palette with well-placed yellow flowers, and the middle card drawn by Saya Tsuruta, who switches to pink flowers which symbolize hearts coming off of this cheerful critter. Dachsbun gets its first appearance illustrated by You Iribi, who makes this Pokémon look like a freshly baked loaf.
Japanese sets often give us early ideas of what the English-language sets may include, so be sure to keep an eye on our coverage. You can stay tuned for previews of VSTAR Universe cards as well as updates on everything Pokémon TCG right here at Bleeding Cool.