Pokémon TCG Japan: Scarlet & Violet Ex Preview: Maschiff Line
Pokémon TCG Japan's set Violet ex introduced the Dark-type Paldean species Maschiff which evolves into the creepy Mabosstiff.
---
It's time for a new era. Pokémon TCG Japan has released two sets that kick off Generation Nine and bring Paldean Pokémon and Trainers to the Pokémon TCG for the first time. These two sister sets are Scarlet ex and Violet ex. These sets and as well as three 60-card Starter Set ex decks will be the basis of the English-language set Scarlet & Violet base coming out internationally on March 31, 2023. Starting with these sets, English-language versions of the sets will now more closely mirror Japanese expansions, using silver borders and set codes instead of set symbols. Scarlet ex and Violet ex also see the return of the original lowercase ex card type as well as the debut of the Terastal ex card type that will replace Vs and VMAX as Ultra Rares. We also now know that Illustration Rares and Special Illustration Rares, a card type that debuted in Crown Zenith, will return with this set, with ex cards being the mechanic we'll see depicted. Today, we take a look at another line of new Paldean species that have arrived in the Pokémon TCG.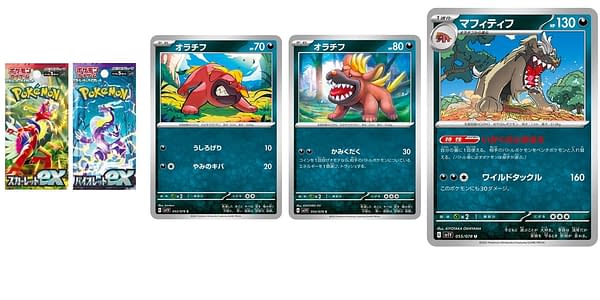 Appearing in Violet ex is the Maschiff evolutionary line. Maschiff, the base form, is a Dark-type Pokémon. It gets two cards, with the one on the left drawn by kantaro and the crazier one in the middle drawn by KEIICHIRO ITO. It evolves into Mabosstiff, who retains the Dark-typing and is drawn in its TCG debut by KIYOTAKA OSHIYAMA. It also gets a Secret Rare Illustration Rare by OKACHEKE. Let's learn about these new species through their Dex entries. First, Maschiff:
It always scowls in an attempt to make opponents take it seriously, but even crying children will burst into laughter when they see Maschiff's face.

Its well-developed jaw and fangs are strong enough to crunch through boulders, and its thick fat makes for an excellent defense.
Now, Mabosstiff:
This Pokémon can store energy in its large dewlap. Mabosstiff unleashes this energy all at once to blow away enemies.

Mabosstiff loves playing with children. Though usually gentle, it takes on an intimidating look when protecting its family.
Japanese sets often give us early ideas of what the English-language sets may include, so be sure to keep an eye on our coverage. You can stay tuned for previews of Scarlet & Violet cards as well as updates on everything Pokémon TCG right here at Bleeding Cool.