Posted in: Card Games, Games, Pokémon TCG, Tabletop | Tagged: pokemon, pokemon cards, Pokemon TCG, Scarlet & Violet, slowpoke
---
Pokémon TCG Japan: Scarlet & Violet Ex Preview: Slowpoke Art Rare
Toshinao Aoki has returned to the Pokémon TCG after an absence of many years to deliver beautiful new Alternate Arts and Art Rares.
---
It's time for a new era. Pokémon TCG Japan will release two sets on January 20, 2023 that will kick off Generation Nine and bring Pokémon and Trainers to the Pokémon TCG. These two sister sets are Scarlet ex and Violet ex. These sets and as well as three 60-card Starter Set ex decks will be the basis of the English-language set Scarlet & Violet base coming out internationally on March 31, 2023. News hit when it was revealed that the English-language version of the sets will now more closely mirror Japanese sets, using silver borders and set codes instead of set symbols. This set also sees the return of the original lowercase ex card type as well as the debut of the Terastal ex card type that will replace Vs and VMAX as Ultra Rares. We also now know that Art Rares and Special Art Rares, a card type that debuted in Crown Zenith, will return with this set, with ex cards being the mechanic we'll see on SARs. Today, let's take a look at new Art Rare coming for the launch of the Scarlet & Violet era.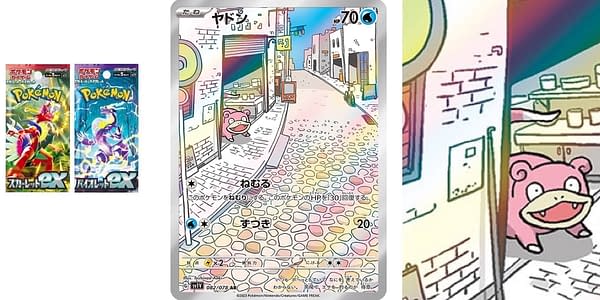 Oh lord, he comin'. Slowpoke is one of the first-ever Art Rares revealed of the Scarlet & Violet era, and man, does it make me glad that this card type, which many thought would be exclusive to Crown Zenith, is continuing on into this new era. Does it add to the chase cards we completionist collectors have to get? Sure does. Am I sad about it? My wallet might be, but he and I are separate entities, so I'm settling on a strong "no." This hilarious Slowpoke is illustrated by Toshinao Aoki, who has been contributing to the TCG as far back as the Neo era. Aoki is responsible for iconic cards such as Ampharos holo from Neo Revelation, the original Flying Pikachu and Surfing Pikachu promos, the original Kanto Bird promos and Special Delivery Dragonite gave out during the movies, and more recently, after a hiatus of many years, Unown V Alternate Art from Sword & Shield – Paradigm Trigger. It's so nice to see Toshinao Aoki back!
Japanese sets often give us early ideas of what the English-language sets may include, so be sure to keep an eye on our coverage. You can stay tuned for previews of VSTAR Universe cards as well as updates on everything Pokémon TCG right here at Bleeding Cool.
---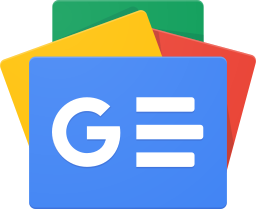 Stay up-to-date and support the site by following Bleeding Cool on Google News today!