Review: Power Rangers: Battle For the Grid is Great, Just Needs Fleshed Out
[rwp-review-recap id="0"]
Power Rangers: Battle For the Grid released a little bit ago now from nWay, Hasbro, and Lionsgate Games, and after spending quite a few nights building Ranger teams and going to battle, it can be called a totally fun, if not complete game. Spanning all eras of the franchise, the Power Rangers fighting game fans have always hoped for is here and there is a lot to like.
Presention-wise, it is a very slick and easy to navigate game. Right out of the box you have a few modes to chose from: Online matches, one on one matches, and a story mode are all on the table. The menus load quickly and painlessly. This version was played on a PS4, and no lag or freezing of any kind could be found, it made no difference if the game was being played offline or online.
Gamplay is super easy. If you have ever played a fighting game ever, you can pick up the controller and be pretty expert level quickly. There are some combos and such to get down, but if you are a fan of button-mashing fighting games, this is going to be one for you. While the combat system is fairly novice, using your teammates and Zord specials can be a timing nightmare, especially the further you get into the story mode. The team moves and tagging out scream Marvel Vs Capcom, so players familiar with that system should feel right at home here.
Where the game lacks is in character selection. Sure sure, DLC is coming and will add many fan favorites in the future, but that doesn't change that you only have nine characters to make teams of three from at the start. You end up fighting the same people over and over again in story mode, and online most of the teams are made of of some variations of Lord Drakkon and two others. The faster characters like Drakkon and Gia Moran are favorites of mine, and Goldar is a great tank fighter. That combo is everywhere online, maybe swap out Gia for the Mastadon Sentry and you have every team ever in the rooms. Most of the fighters have extra character skins as well. I can't wait for so many more characters to be added. Some already have, but so many more are needed.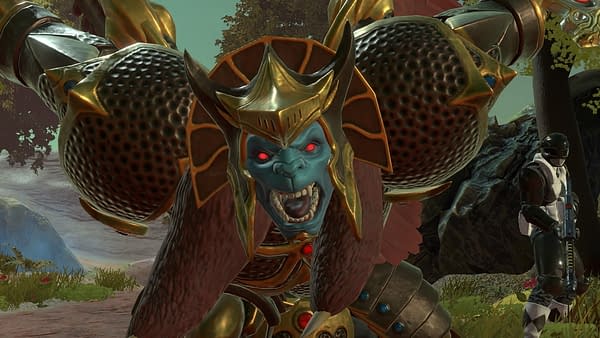 Overall, this is a fun fighting game. That goes double for Power Rangers fans, who surely won't be able to get enough of this one, especially as more and more DLC is released in support.
Power Rangers: Battle For the Grid is available now on PS$, Xbox One, Nintendo Switch, and Steam.
[rwp-review-ratings id="0"]
[rwp-review-form id="0"]