Halloween may not be done yet, but that hasn't stopped Psyonix from revealing what's to come in Rocket League for the rest of 2019. The company laid out its Winter Roadmap for the remainder of the year, including Season 12 rewards and much more. You can read some of it below, and check out some of the finer details here.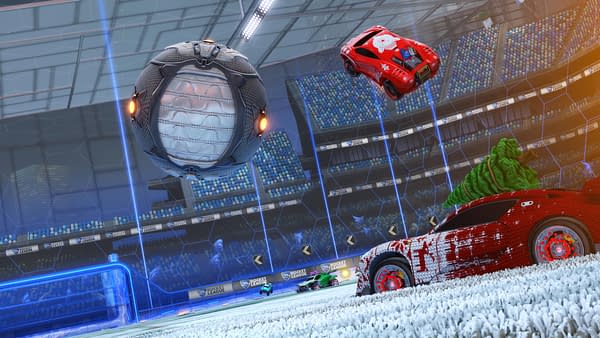 ORIGINAL DLC TO BE INCLUDED IN THE BASE VERSION OF ROCKET LEAGUE

Yes, you read that correctly. Later this year, all versions of Rocket League on all platforms will include the first three DLC Packs at no additional cost.

Following an update before the end of the year, everything included in the Supersonic Fury, Revenge of the Battle-Cars, and Chaos Run DLC Packs will be automatically available for all Rocket League owners. In other words, all owners of Rocket League will also have access to Dominus, Takumi, Scarab, Zippy, Ripper, and Grog.

As a result, those three DLCs will no longer be available for sale starting today. Rocket League Game of the Year Edition has also been removed from storefronts because it included those three DLCs. Players who purchased any of those DLCs on October 1, 2019 or afterwards will be eligible for a refund through your first-party platform. We'll announce the exact date for when you can expect to see this content added to the base game soon.

INVENTORY ARCHIVING

We know your inventories are growing, so we're adding the option to archive items to no longer appear in your main inventory tabs. An "Archive" tab will be added to the inventory screen that will house all of your archived items. With this new setup, you'll be able to more quickly navigate to the items you love!

Archiving will be added with the Blueprint Update later this year.

FROSTY FEST 2019

We hope you're enjoying Haunted Hallows featuring Stranger Things, but you can also look forward to a new installment of our Frosty Fest in-game winter event this December. Get ready to deck the halls and your favorite vehicles with the coolest customization items that celebrate this happy season! Frosty Fest 2019 will begin in mid-December and runs into the new year.

RLCS AND CRL TICKETS

Rocket League Esports has two electric live events scheduled for before the end of the year, and you won't want to miss them!

First, the Collegiate Rocket League (CRL) National Championship will take place at the Esports Stadium in Arlington, Texas. Get your tickets now for the showdown on November 9!

Then, the best Rocket League teams in the world will battle it out in the Rocket League Championship Series (RLCS) World Championship in Madrid, Spain on December 13-15. There's still plenty of League Play action to catch between now and the final games of Season 8, but you can get your tickets now to catch all the action live and in person!
Enjoyed this article? Share it!