PUBG Receives Several Additions From the Latest Update
Today, PUBG Corp. sent out an update for PlayerUnknown's Battlegrounds on PC, adding in a few new little tidbits to expand the gameplay. We have a few videos below of new additions, as well as a set of the bugs that were fixed in this latest update, but the short version is that you now have a laser sight for your guns, a new gun in the MK47 Mutant, a new Supply System, and a Practice Area to help you perfect your skills.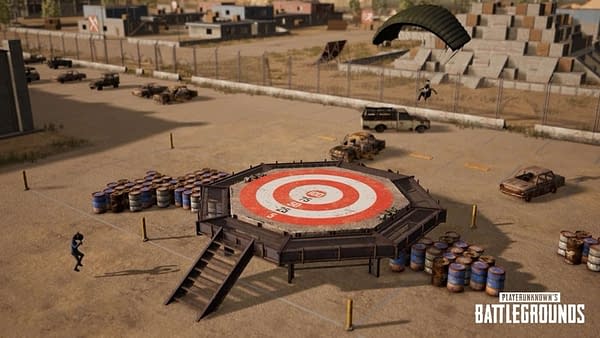 UI/UX #02: Fixed the issue where, after connecting the XBOX controller to the PC, the drop-down menu would not appear to select the reason for reporting on the results screen.
CHARACTER POSITION #01: Fixed the issue where the position of the character who boarded a car is fixed at a very strange spot
CHARACTER POSITION #02: Fixed the issue of the character being shown in a different location.
CLONING: Fixed the issue when a character is moving by vehicle, the character is created in a unspecific location
WEAPON RENDERING #01: Fixed the issue where the weapon is shown in a different position than where the character is holding it
WEAPON RENDERING #02: Fixed issue where the weapon of the person being spectated is not rendered, causing a problem when this weapon goes into ADS mode.
CAMERA #02: Fixed the issue where the camera zooms in when approaching a corpse while lying down
CAMERA #03: Fixed the issue where the camera temporarily zooms in and out when approaching a window with glass and throwing a throwable.
SANHOK FIX #04: Fixed the issue where, on the Sanhok map, the character occasionally falls from the sky when situated at the very end of the sea.
BLUEZONE UI: Fixed the issue where the Bluezone timer UI occasionally decreased by 2 seconds
UNDERWATER ANIMATION: Fixed the issue where the character is shown choppy from top to bottom when underwater and unable to move to dry land because of the terrain.
UAZ DAMAGE TAKEN: Fixed the issue where you sometimes received more damage comparatively to other vehicles when driving a UAZ and colliding with a landmark.