Ubisoft's Rainbow Six Siege is getting another timed event with a twist as Netflix's Money Heist takes over the game for the next few days. Starting tomorrow, November 20th, and running until November 25th, you'll be able to play a heist of your own with an R6S twist. This new game mode set on the map Bank with the returning game mode Hostage. If you forget how to play Hostage, one team must defend a bound-and-gaggag hostage from the attacking team. The attackers can snag the hostage and lead them to the safe zone for the win, or just kill all the defenders. But if the hostage is killed by either side, they lose. Here's a few more details and a video for the Rainbow Six Siege event. Best of luck to your operators.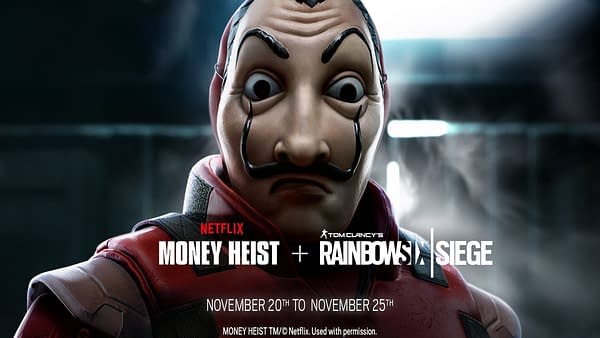 The hostage is disguised in the infamous red suit and iconic mask worn by the robbers and their captives in Money Heist. The Money Heist in-game event will also bring a red jumpsuit and mask outfit for Vigil and Hibana. In total, eight unique items will be available, including uniforms, headgear, weapon skins, and charms. These exclusive bundles are available for 1680 R6 Credits. During the event, Rainbow Six Siege will also be discounted significantly: up to 70% depending on the platform and the edition.
Enjoyed this article? Share it!