Pokémon Masters just got an amazing new challenge as an in-game event has launched called The Dragon That Rules The Sky, featuring a new trainer. This event takes you to the Hoenn region where Trainer Zinnia (Omega Ruby and Alpha Sapphire) along with her Rayquaza join the Alolan region Pokémon Professor Kukui to investigate a wild Pokémon sighting. The first one of its kind on Pasio. Your standard event bonuses and unlockables happen during this period, as well as a number of other additions to Pokémon Masters. You can read about them below, as well as check out a trailer of all the new content during the event.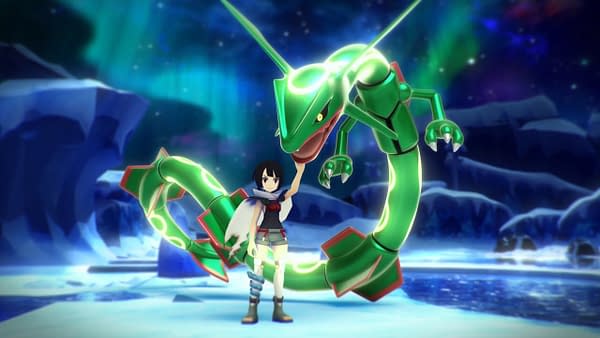 Leaf & Eevee Come to Pasio: The Normal and Steel-type sync pair of Leaf & Eevee will make their debut in the sync pair Spotlight Scout from now until Feburary 5 at 9:59PM Pacific Time. This sync pair uses a sync move called "Endless Possibilities Extreme Evoboost," which strengthens the stats of allied sync pairs.

Kukui & Lycanroc Now Available: Players that participate in the in-game event "The Dragon That Rules The Sky" will be able to battle alongside Alolan region Pokémon Professor Kukui and his partner Pokémon Lycanroc. This Rock-type sync pair will also be featured in the "Kukui Spotlight Scout," which will be available from now until Feburary 13 at 9:59PM Pacific Time. The Lycanroc in this sync pair takes on the Midday Form. Lycanroc in its Midnight Form is paired with the Trainer Olivia and also available in the game.

Celebrating 20 Million Downloads Worldwide with 1,500 Free Gems: Pokémon Masters has been downloaded a combined 20 million times worldwide on the App Store and Google Play. To commemorate this milestone, all players who log in to the game from now until March 15 at 9:59PM Pacific time will receive 1,500 free gems.
Enjoyed this article? Share it!