Red Bull Golden Letters Returns For Second Year To London
Red Bull Golden Letters will bring back the company's Tekken 7 esports tournament back to London this March.
---
Red Bull announced this morning that it is bringing back the awesome Tekken 7 esports tournament Red Bull Golden Letters to London. The event will return to the Red Bull Gaming Sphere in London from March 4th-5th, 2023, bringing back some of the world's top players in this unique first-to-three format. This time, however, they have expanded the pool of competitors to a 128-person open qualifier, filled with top pros all the way down to starting amateurs. We have more info on the event below, as you can sign up to compete right now.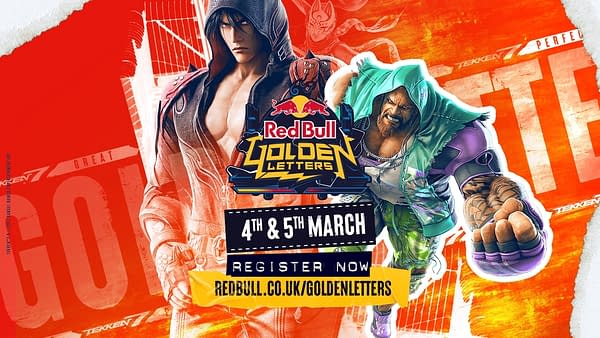 "Red Bull Golden Letters' unique way-to-win format also makes its return, incentivizing perfect play and putting players under pressure as they race to win in a first-to-three format. Bigger and better than ever, Saturday will see an expanded 128-person open qualifiers take place, offering aspiring pros the chance to stake their claim among the nation's best and compete for their place in the finals showdown. Across Sunday's finals, the eight finalists from the open qualifiers will face off against the eight invited professional players, including Red Bull Player and Tekken pro Hoa 'Anakin' Luu returns, joined by two South Korean legends: two-time Tekken EVO champion Hyunjin 'JDCR' Kim and three-time Tekken Evo Champion Jae-Min 'Knee' Bae, alongside last year's Champion Richie 'AyoRichie' Olusanya to claim the Red Bull Golden Letters Crown. Players who manage to secure three of Tekken's 'Perfect' or 'Great' scores – the eponymous 'Golden Letters' – will win the entire set in these clashes."
"After taking home first place and claiming the title of Champion in an underdog win last year, Richie "AyoRichie" Olusanya will also be returning to Red Bull Golden Letters. He says of his experience, 'The [Golden Letters] format brings so much hype to it, the scoring can work against you, but it's sick and so great to watch and play in. It was unbelievable playing here in front of a live audience – with people cheering you on, there's nothing like it at all, and that atmosphere definitely inspired some of the performances today.'"