Resident Evil Village Will Be Getting A Demo On May 1st
Capcom revealed during a special Resident Evil Showcase livestream today that Resident Evil Village is getting a special demo on May 1st. The team revealed a brand new trailer today that highlighted a lot more of the horror from the game, including giving you real reasons to be afraid of the 9' vampire woman who apparently has Freddy Krueger claws. You also get a look at what's happening underground as it appears they have started making creatures in deep caverns and something inside a giant aquatic tank. Enjoy the trailer as we have more info on the game and the demo below.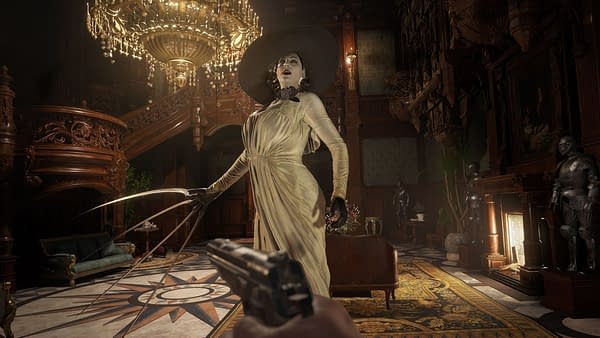 The heart-pounding action does not stop once Ethan's story concludes. The fan-favorite game mode, "The Mercenaries," makes its much requested return with rich content and rewards, providing variety and replayability beyond the main gameplay in Resident Evil Village. Players must complete increasingly challenging objectives before the clock runs out in this additional game mode, which is unlocked by completing the main campaign. The Duke merchant from the main game appears in the mode, offering weapons and upgrades to help tackle the challenges. Additionally, players can acquire abilities that enhance their weapons or physical abilities. It will be up to each player to strategize which load out will be the most effective for each objective.

Intrepid players are invited to get an early taste of the action-packed horror that awaits when Resident Evil Village launches on May 7. Players can explore the village and castle areas of the game for up to 60 minutes in a limited time demo for PlayStation 5, PlayStation 4, Xbox Series X|S, Xbox One, Steam and Stadia. This multiplatform demo will be accessible for 24 hours starting May 1 at 5pm PT for North America, South America and Latin America residents, with a pre-load option starting April 29 at 5 pm PT.