Review: "Clank!" Legacy Acquisitions Incorporated Upper Management Pack
One of the cooler items we got to see a few months ago back at PAX East was the Acquisitions Incorporated Upper Management Pack for Clank! Legacy. This is an interesting combination of forces going here as you have Penny Arcade lending their license to both Renegade Game Studios (who own the Clank! IP) and Dire Wolf Digital who put the box together in order to make this new addition work with the original board game. But what all are you getting here and how does it work with the game? We got ourselves a pack and tried it out.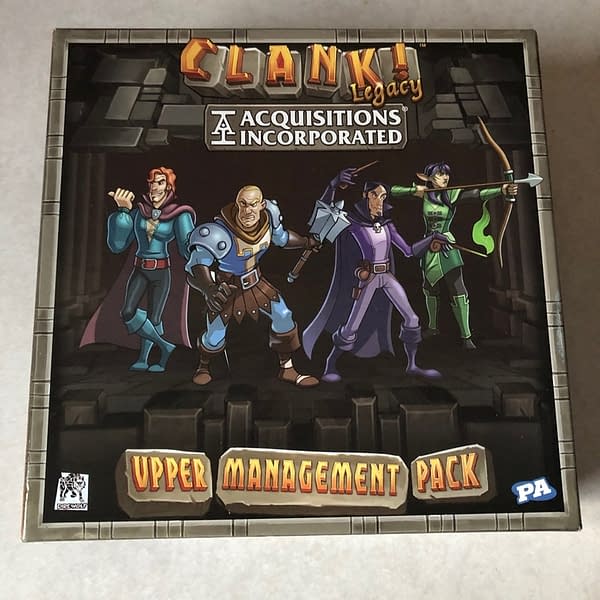 So what exactly is the point of the Upper Management Pack? The idea of it is for you and your friends to play as four different characters in Clank! with their own abilities and character changes to make the dungeon much more interesting. In this case, you're getting the A-Team of Acquisitions Incorporated, made up of Omin Dran, Jim Darkmagic, Môrgæn, and Viari. Or for the more aesthetic power purposes, a paladin, a wizard, a ranger, and a rogue. First off, you get these amazing figures made to look like each character from the show, and these look absolutely amazing. I immediately asked people if they could paint these for me, but wasn't able to get someone who had the time to devote before the review. But even just as gray figures, these are far better than the icons you use in the regular game.
As with the main game, the Upper Management Pack includes cards specific to each character and decks to match. As you go through the game, you will build a deck of abilities, powers, keys, and other items that will help you make your way through the dungeon and aid in doing the one thing you came down here to do: get rich. Specifically, hunting for treasure throughout an entire area that is filled with peril and traps, but also tons of gold and loot that you need to collect in order to win. Each character comes with specific abilities to their persona that can aid them in getting through the maze and back out with more gold. I found that while they're made to be balanced, I was able to make it a lot further through the dungeon with Viari and Môrgæn than with Omin or Jim.
As you can see from the photo below, they basically fit right into the game as you will go hunting from room to room, exploring what's on every area, using keys to get through specific locks and other challenges that present themselves. I was fortunate to have reviewed Clank! before a while ago, so I had a version that was totally compatible with what they were putting the characters into. While the set itself doesn't fit into the box of the main game and has to be carried around as a second addition, I found that the pieces of what you bring basically fit right into everything with no issue and feels like it was a part of the game all along.
Acquisitions Incorporated is the perfect addition to Clank! because of what the characters represent to the story of the game. When you get right down to the business Omin runs, going down into a dungeon for the singular purpose of making it rich is about as on-brand as you can get. I believe the Upper Management Deck is a great addition, and I'm looking forward to trying it out with other versions of Clank! along the way. I recommend it if you want to change up the main game or if you're an AI fan. If not for those purposes, it could be hit-or-miss for average players.