Review: EON's Super 64 HDMI Adapter For The N64
For those who still own a physical Nintendo 64, working with a modern-day HDTV can be a pain when trying to play some retro titles. Sure, there are wiring options for the old-school into the new-school, but anyone (like myself) who has dealt with that nightmare on older consoles would love an alternative. Lucky for us, EON created one in the Super 64, which they sent our way to test out and review.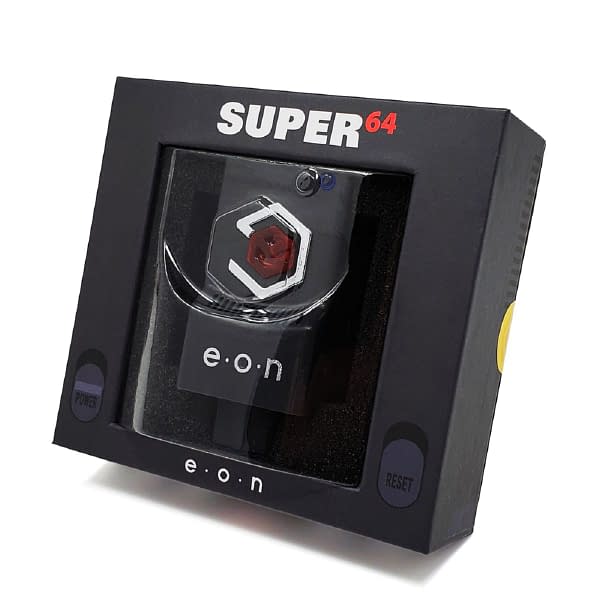 So let's take a look at the unit for a moment. This is a single piece of tech that plugs directly into the back end of the N64. As you can see here, the front end has a port adapter to match the outgoing composite media end of the N64, while the back had an HDMI port for you to hook a cable up to, the will plug directly into your HDTV. The device is powered by the N64, so there's no extra wires or hookups. And the design has been made with a small built-in stand so that it matches the height of the console without draping off and causing damage to the other end.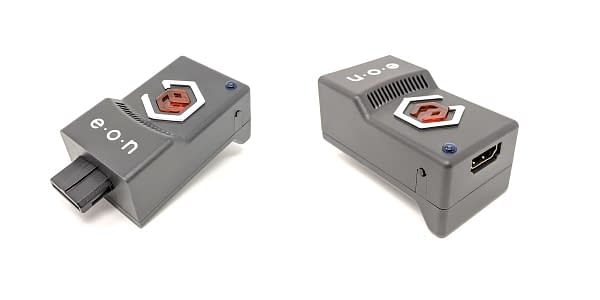 As far as the output goes, what you see below is an example from EON of what it will do when hooked up. Essentially, you're getting an upgrade on a 480p image. Why not 720p or 1080p? Because it's an N64! You can only upgrade graphics from that era so much, and that's as high as they get. Even people who went in and cleaned up Final Fantasy VII from the original PS1 version only got so far with the way it was designed, so we can't fault EON for only being able to make the Super 64 get to 480p. That said, the graphics look pretty good as we tried this out with Mario 64, Mario Kart 64, Castlevania 64, The Legend of Zelda: Ocarina Of Time, WWF No Mercy, Mario Party 64, Super Smash Bros., Starfox 64, and Banjo-Kazooie.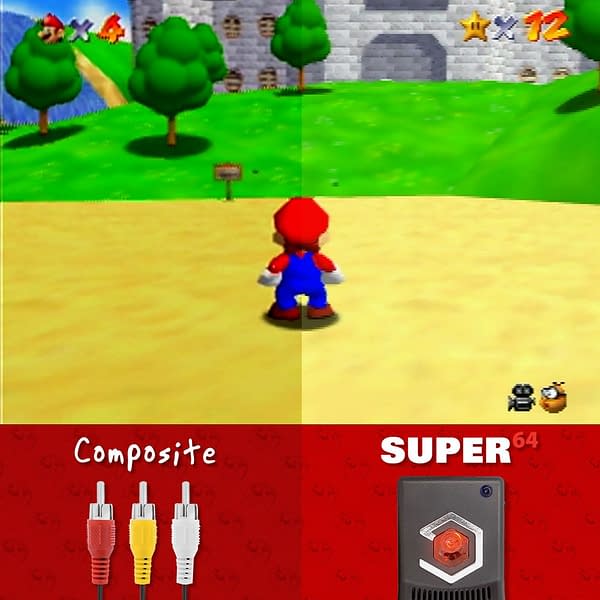 What we saw was a total upgrade of the games as far as appearance, and there was no deviation of response from the controller input to the game, meaning there's no lag when we decided to do something. Audio-wise, we didn't hear much of a difference. Again, it's old audio, they're not cleaning up the track by hand they're simply making it so you can hear it on an HDTV. But for what it's worth, it's probably the best I've ever heard Starfox 64 ever sound. The Super 64 also comes with what they call "Slick Mode", which you activate with a button on the side and a blue light coming on to show its active. Basically what it does is it smooths out the polygons and gives it a "slick" look. This has some mixed results as half the games you see an improvement, while the other half it feels like you have mild glaucoma. It's a nice addition for some of what you own, but not everything.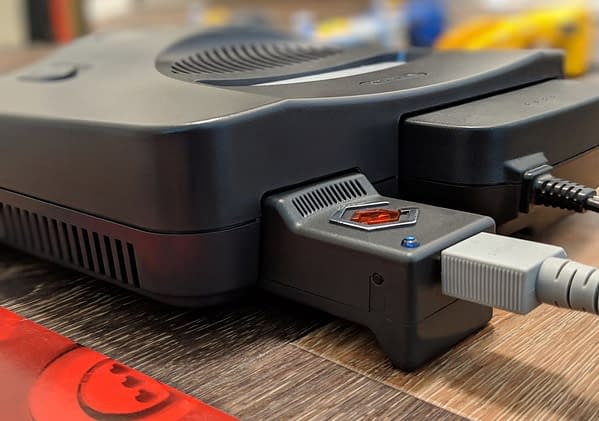 Overall. I thought the Super 64 did what it aimed to do: it made my N64 games playable on an HDTV and made the graphics not as bad as I remembered them. It doesn't mess with the games, doesn't hurt the system, keeps the aspect ratio, and may actually improve some of the games you're seeing. But also keep in mind this isn't some magical piece of tech that will make your old games look slick. The purpose of this is to put a console that was never designed for HDTV's play on one… and that's really it. So if you're hoping it'll somehow remaster old polygons to look less like polygons, you'll be disappointed. If you own a Nintendo 64 and want to get rid of the mess of wires behind the cabinet you're using to upconvert, this is a must-own.