Ho, ho, ho! It's winter, and apparently it's also the grand opus for this year's flu and virus season. The weather is getting colder, and various US states are getting hit a bit worse than others with the flu. Did you get your vaccine this year?
No?
Good.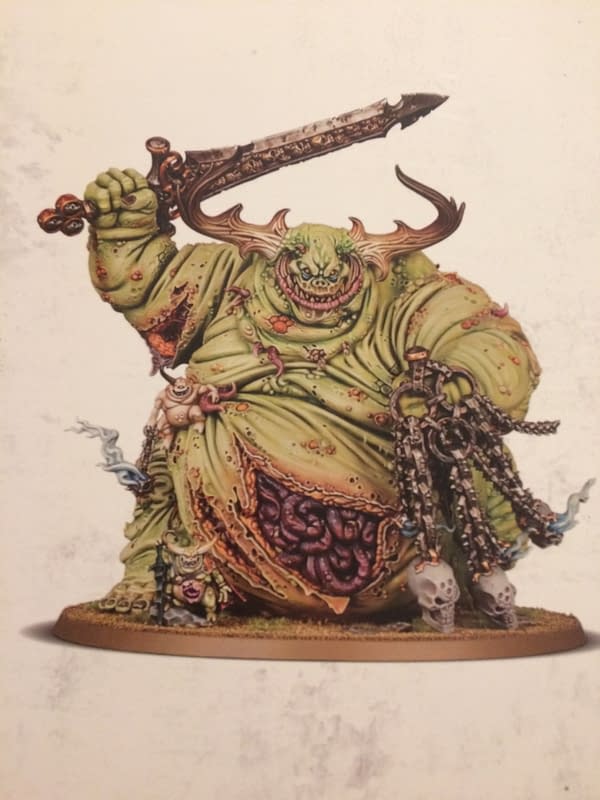 After all, today we are reviewing the Great Unclean One model by Games Workshop, playable in both Warhammer 40,000 and Warhammer: Age of Sigmar. Like the Start Collecting! Daemons of Nurgle boxed set, this is not an entirely new release. However, in the spirit of the season (see: my introduction to this article), I felt it apt to include a large, jolly being with plenty of smaller creatures in his employ, and gifts to give everyone… That isn't Father Christmas.
No, no, I wanted to review a creature far older than Santa Claus – Grandfather Nurgle is as ancient as time immemorial – without Nurgle, there is no life, and certainly, there is also no death. His blessings are a boon to his kindred followers and a literal pox upon his dissenters.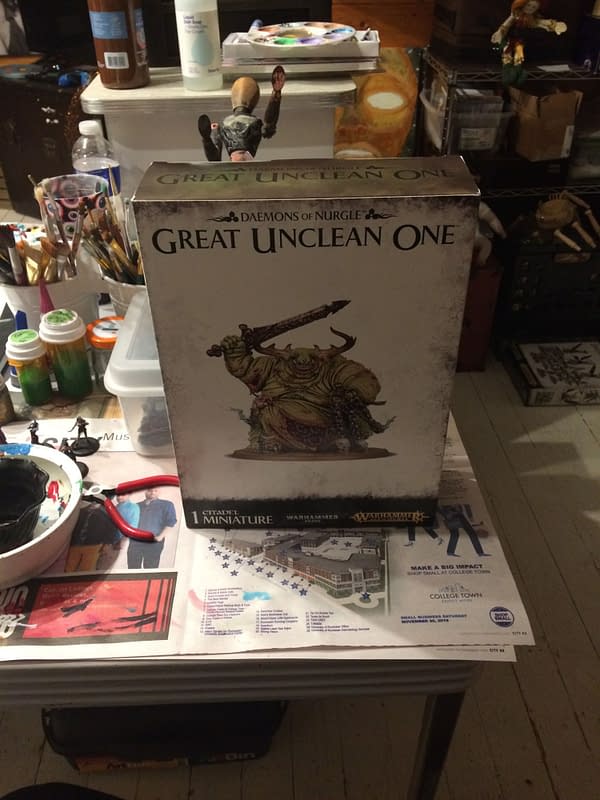 This kit is a massive one, as is fitting for a beast the size of the Great Unclean One. It comes with options to assemble exactly one Great Unclean One with two different weapon options for each hand, or to assemble a Great Unclean One champion called Rotigus.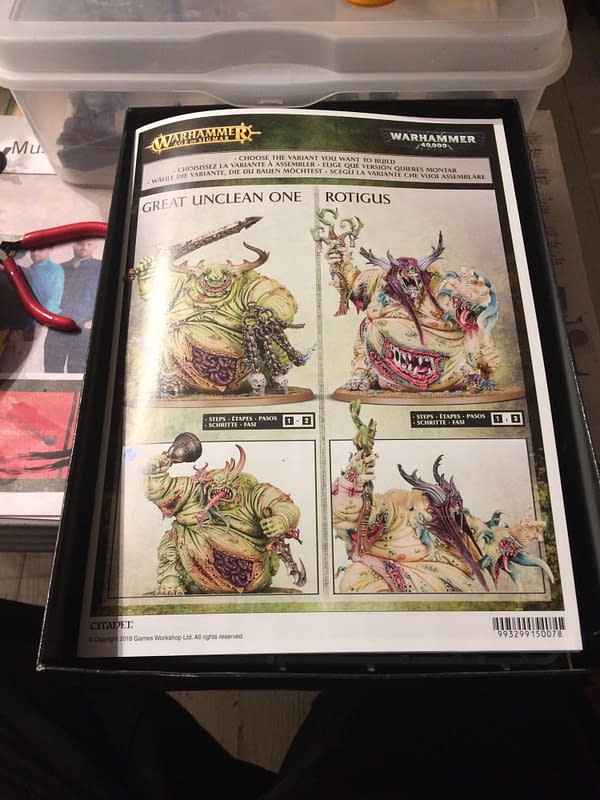 I, personally, want to represent the new and prospective Nurgle players here, so I chose to assemble the Great Unclean One as is. I used the Bell and the Flail as its weapons, which each are larger than a standard-sized model!
This assembly was an extensive process. The first step in the assembly procedural was to piece together the Great Unclean One's massive body, which, as bulky as it is, is completely hollow. This isn't a bad thing because it means there's less waste (ironically enough).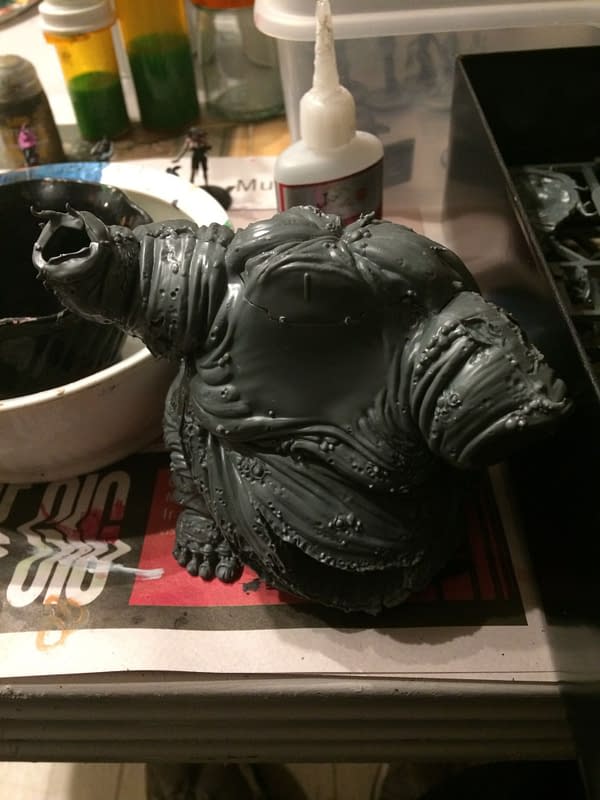 Sooner or later I managed to put the entire creature together in the configuration I wanted. Games Workshop made the process of choosing weaponry pretty simple for a seasoned player (as the Warscrolls for both models, with all weapon options, and in both relevant games, are all there), but as someone coming in, I admit I had to ask my friend Neil Burns about which options were best. I also asked my fiance what looked cooler, since we have to look at this thing pretty often from now on. With all of this in mind, I made my decisions.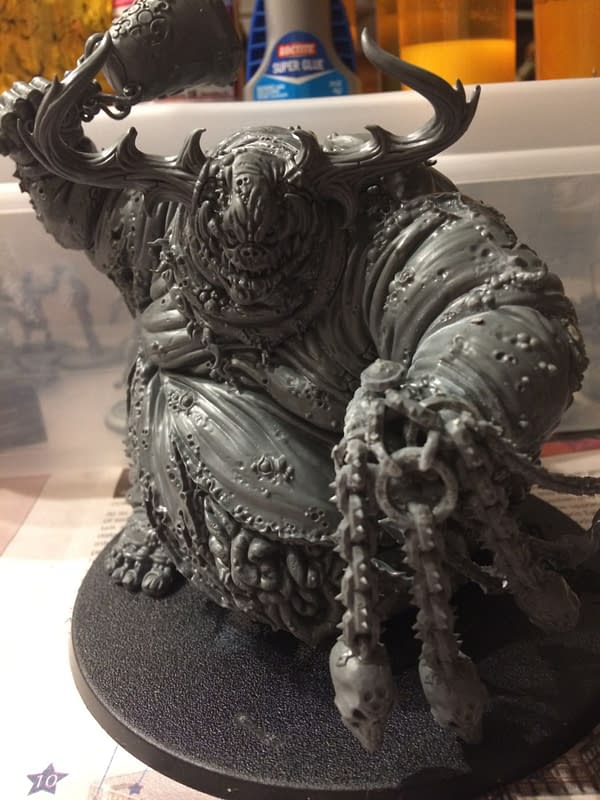 I also elected not to add Nurglings to the model – this was not just an aesthetic decision, as I wanted to use them for some RPG enemies since between this box and the Start Collecting! Daemons of Nurgle boxed set (which I reviewed recently!), they're quite plentiful outside of the Nurgling Swarms themselves. However, I did elect to have a bit of fun…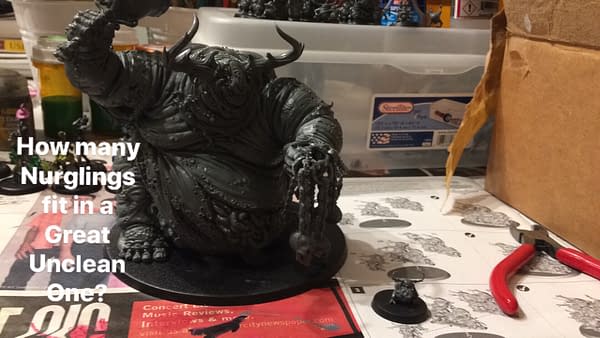 So, all in all, I really love this model. I cannot wait to paint it! I do have a bit of a backlog (but let's be honest, what wargamer doesn't?). I also seriously appreciate Games Workshop's commitment to the wargaming community when it comes to the hobby of it all. I still need to learn Warhammer: Age of Sigmar, but I think above other options I may have no choice but to play as dirty as dirty can be.
And that's pretty dirty.
Enjoyed this article? Share it!