Review: Marseille's mCable HDMI Cords for Cinema and Gaming
The holidays may be on us, but not everyone has a ton of cash to throw around on a new TV. But a company called Marseille is offering an alternative with the mCable. The purpose of these cables are to take images from whatever device you may have and upscale them to look like they're in 1080p HD, and for those with HD, it will upgrade it to look like 4K. They sent us a couple sets of cables, one for gaming purposes and one for cinema to test out and review. It sounds pretty awesome, but do they do the trick?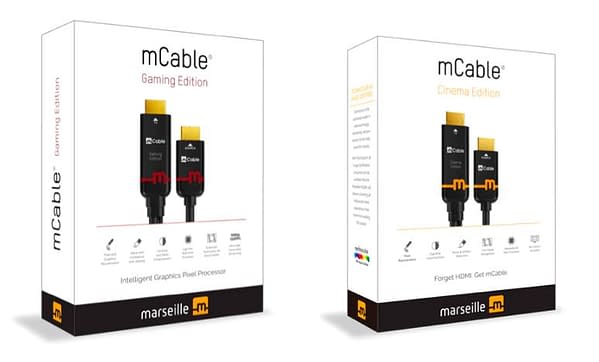 SO let's get to the nitty-gritty of what these cables actually are. They look like standard HDMI cables, however, one of the ends that goes into your TV contains a chip inside that does the work. The chip picks up the signal from the source, figures out what kind of TV you're plugging your source into, and then makes the changes on the image to accommodate. A good example of this would be me taking an Xbox 360 and plugging it into my 4K television. It takes the HDMI and goes line by line in the 1080p to make it look like a 4K presentation. In essence, it's throwing in filters and adjustments to compensate for what the signal doesn't contain in order to make it match.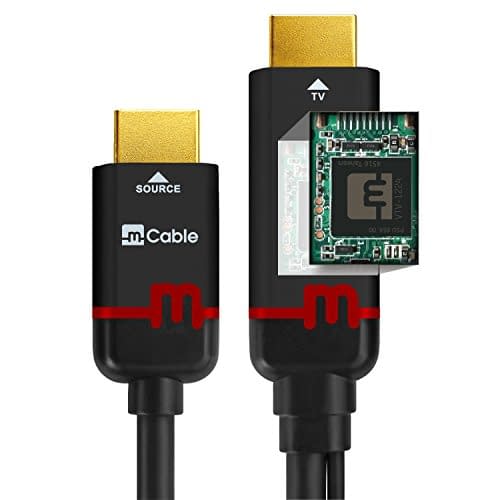 When we tested an older model system on an HDTV from 2008, we got some awesome results as both a PS4 and an Xbox 360 looked better on the TV than they had in their prime. So it works well with older tech on older tech. When we tried them on a 4K TV, we got about the same results, but you could tell it was just a little bit off. It almost looks 4K, because the chip is trying really hard to make it look awesome, but it's just shy of being perfect. Then we tested it out on all three modern gaming consoles (PS4, Nintendo Switch, Xbox One X) and hooked them up to an older HDTV that was made in 2008. Surprisingly it makes all of them look pretty good on that TV. But when we threw them into the 4K, there was no difference. Because all of these consoles are already being plugged into something made within three years of their creation, so there was nothing to improve.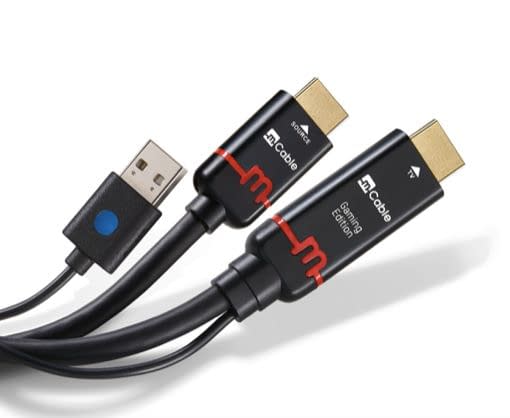 The one major drawback to these cables is that they come with a third cable that's a USB link on the Source end. These cords require power to activate the chip, and for some reason, don't use any power being transferred between the TV and the device to get your signal working. This puzzled the hell out of us because, to be blunt, not everything you plug into will have a free USB port lying around for you to just get power from. Especially older tech! The other problem we ended up having was the price, as a 3' cable will run you $120, and it goes up an additional $10 for every extra 3'.
Overall, we were impressed with what Marseille's mCables could do, but the power requirement is annoying and an inconvenience. We can't argue with the fact that there will be some people who will wait until a big 4K TV is $200, so for those consumers, this is a nice compromise. But everyone else, we would recommend waiting until they find an alternative for the power supply.