Review: Monopoly Cash Grab Game
A while ago we had received a unique board game in the mail as Hasbro sent us the Monopoly Cash Grab Game to check out and review. We weren't entirely sure what to make of it looking at the box, other than the obvious that it was a Make-It-Rain money shooter designed to have a Monopoly feeling to it. We cracked it open and tossed the money in to see how well this game holds up for our review.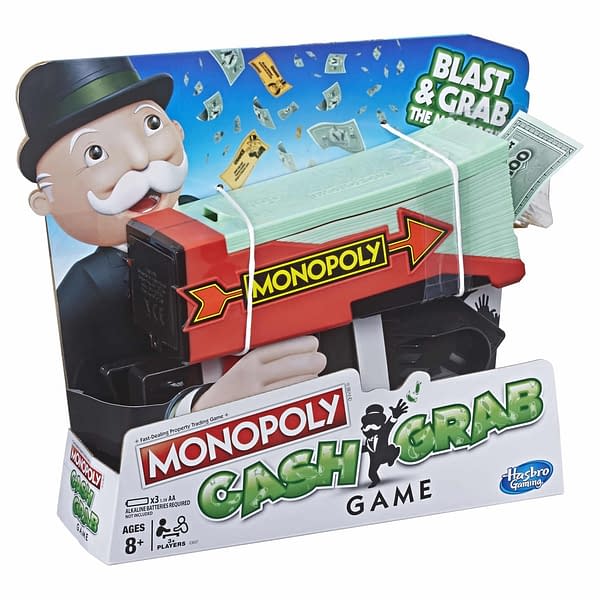 The game is for ages 8+ and is pretty simplistic. You take all of the cash provided to you by the game and load it into the top of the "blaster", as they call it. You place the blaster on a spinning arrow that acts as a table/holder for the blaster. The player it lands on has to be the one holding the blaster in the air to shoot money up for just a few seconds. Everyone, including the shooter, then races to grab as much money as possible that came out of the blaster. You continue doing this until there's no money left and then add up your totals. Pretty simple, right? There are also Chance cards that look like money added throughout the deck of bills that can add more cash to your pile. Sometimes in large amounts, sometimes small. It's up to you to decide what to go after.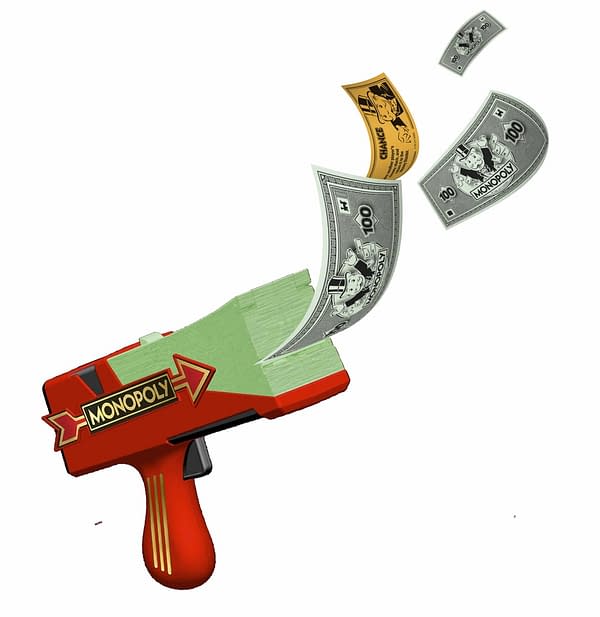 The Monopoly Cash Grab Game is a pretty cool idea, but it's hampered with some problems. First, the slit in the front where the money comes out gets jammed often. Especially after people have grabbed the money enough times to wrinkle it. Also, the game requires 3 AA-batteries to run the thing, which does not come with the game. A bit of an oddity that's also a deal-breaker for us because what company sells batteries in packs of 3? This should have been 2 or 4 batteries just to make things easier. Ultimately, it's okay, but it isn't that great. Its basically there to have some fun with, especially for younger kids, but the novelty dies out pretty quickly. Probably best to play a kids version of Monopoly if that's what you're going for.