Near the start of winter, Jinx finally released the first wave of amazing Overwatch Ultimate Hoodies that they had been teasing for several months. These are specially designed hoodies that reflect one specific character on each, and the minute they hit the net, people were clamoring for them! We were lucky enough to be sent the first set, which we've been trying out in the past few weeks of cold, and have a few thoughts to share with you in our review.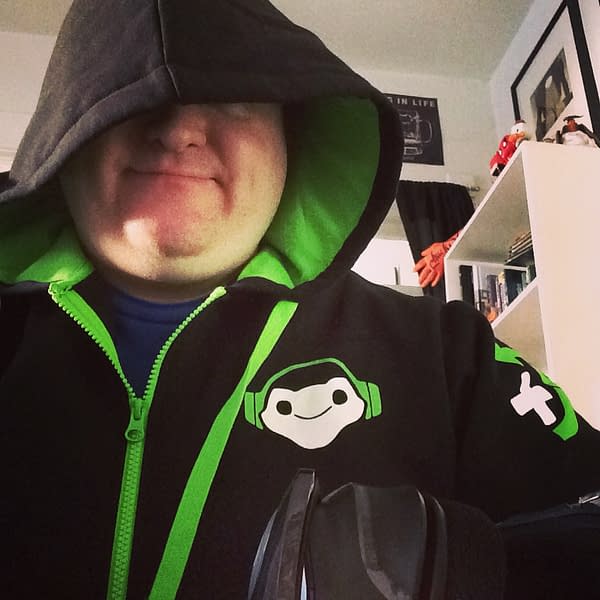 The first wave had eight hoodies in total. They were, in no particular order: Lucio, Genji, Roadhog, Zarya, Reinhardt, Widowmaker, and two versions of D.Va. The material for these is a thick cotton/polyester blend with an elastic/cotton mix on the wrists and the waistline. This creates a warm hoodie that feels softer to the touch both inside and out, but also provides a bit of insulation on its own. Depending on the side you receive, they'll feel a bit baggy at first, but a run through the wash will make them the best fit. Our advice: pick one size larger than what you normally wear.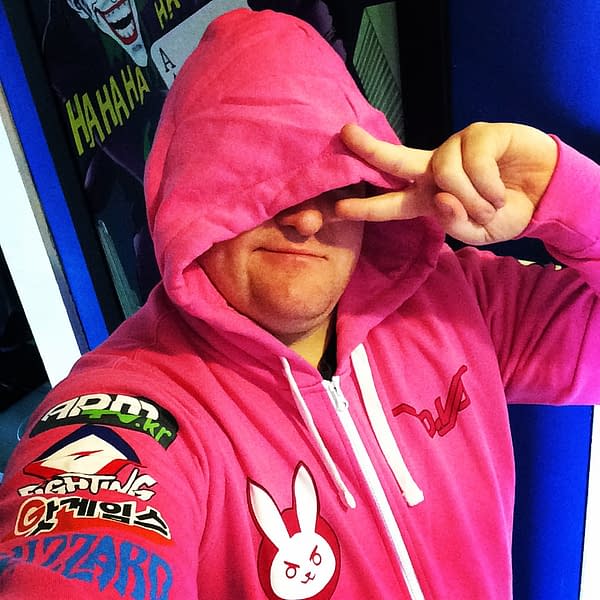 As you can see from my wonderful set of selfies and photos taken by friends, each hoodie has its own special design for each hero. D.va's comes with all the sponsorship logos on the sleeve that you see on her MEKA, Reinhardt comes with the 08 on the shoulder and the lion's head crown on the back, or Roadhog with all of his patches on the chest and pig symbol on the hood. All of them come with at least three different markings that sit on the back, one of the arms, and over the heart. That way, no matter what you wear, people can identify who you love to main.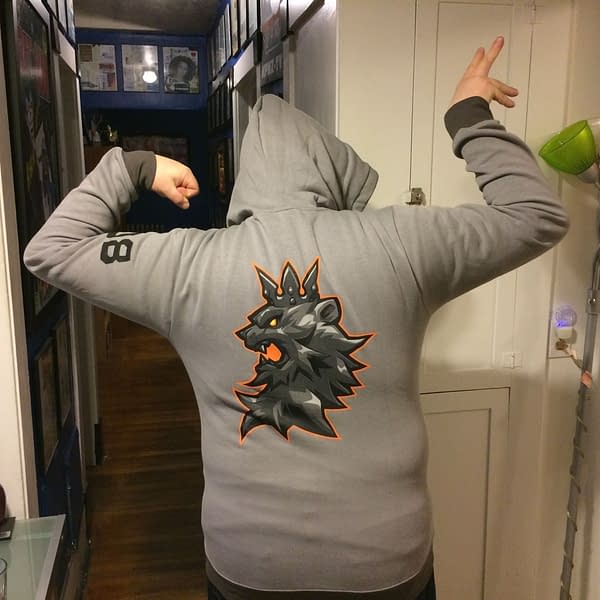 The hood itself is one of the best features of the Ultimate Hoodies, as they're designed to be big and draping. It's that weird Assassin's Creed look everyone loves, even though you can't see a thing. The hoods themselves can drape down low and pretty much cover your entire head if you really want them to. But they can also be positioned in different ways so that they look more stylish, much like some of the Link hoodies you'll find where they fall back onto your shoulders while you wear them. The drawstrings are thick and work well to close in the hood when you need it, and rarely do they ever end up in a position where one side is longer than the other.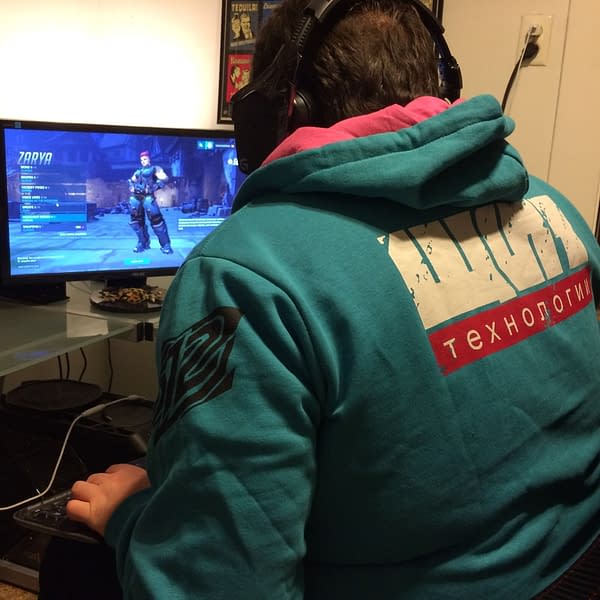 Another great feature that often gets overlooked is the zippers. These are not metal; they are plastic! They're made from a thicker form of plastic so that when you connect and zip up, they flow easier up and down the front of the hoodie. This makes it harder for the zippers to become broken or stuck. It also helps when in the wash so that they don't rust over time and become harder to work with. It's a design characteristic you don't see in a lot of hoodies, as some companies tend to go with metal as a cheap and effective way. Jinx added in the plastic for a few extra dollars, and it is clear that it's well worth the price. The one drawback, if you can call it a drawback, is that not every hero is available. I know that's going to be a turnoff for some, as there are 26 heroes (as of this review) and only seven of them are represented. If one of your main characters isn't in the mix, you're probably looking away and waiting for yours to come down the pipeline. That being said, they picked four tanks, a healer, a sniper, and a DPS fighter. For what it's worth, they cast a pretty decent net over the character pool — everyone usually picks a tank at some point, and they went after two of the most popular characters in Genji and D.va to entice players to check them out. If your favorite isn't here, fear not; more are on the way.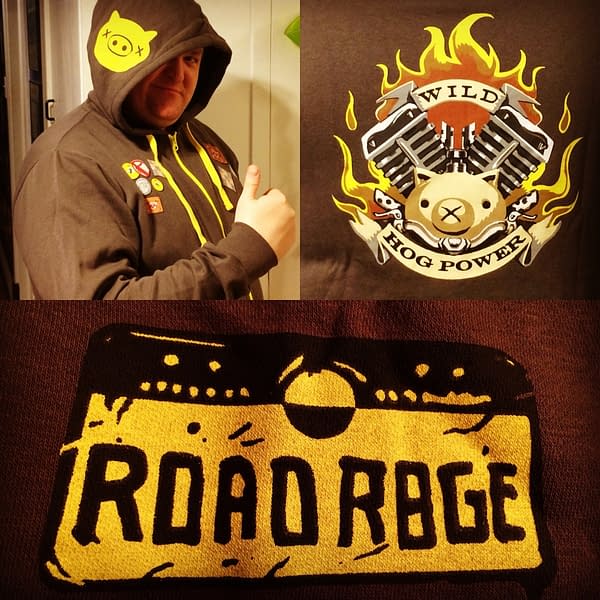 Overall, the Overwatch Ultimate Hoodies are an amazing get. Each one will run you $60, but considering how well they're made and how each one defines the character attached to it, the price is fairly reasonable. These are the kind of hoodies that are going to last you a number of years, most likely well into whenever Blizzard decides to release Overwatch 2. (Don't tell me they won't!) And they're a great way to geek out about your favorite first-person shooter during the bitter cold months. I myself will enjoy walking around in the cold making a winky face in my D.va hoodie.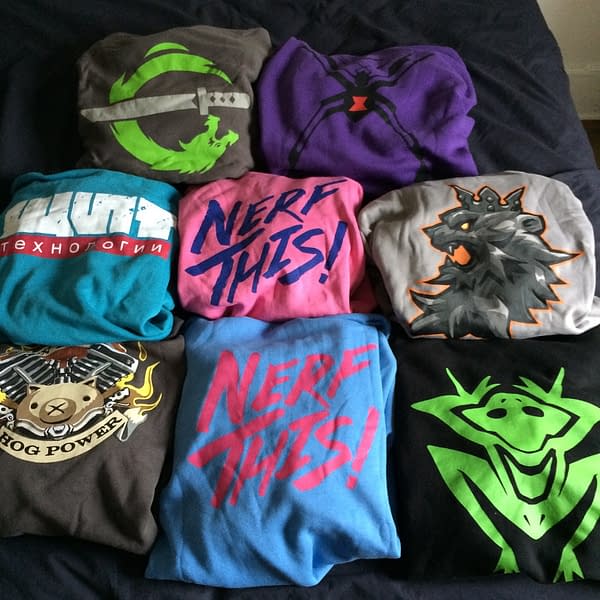 Enjoyed this article? Share it!