Roland-Garros eSeries Announces 2023 Tennis Clash Tournament
Tennis Clash players have an all new tournament to take part in as the Roland-Garros eSeries for 2023, with signups starting today.
---
The Fédération Française de Tennis has announced the return of the Roland-Garros eSeries by BNP Paribas featuring Tennis Clash. The event will bring eight different competitions throughout the Spring, as seven special events as they will have seven finalists win for each major tournament, as well as an eighth member from the 2023 Australian Open Tennis Clash virtual tournament, leading to a Round Robin to boil it down to four. Those remaining four will face off in the Grand Final at Roland-Garros itself on Friday, May 26th, with qualifiers playing for a share of the €5K prize pool. We got more info below on the event and a couple of quotes from today's announcement, as signups are available right now for the Open Qualifier events. All you need to do is access it via your smartphone or tablet device through the Tennis Clash app.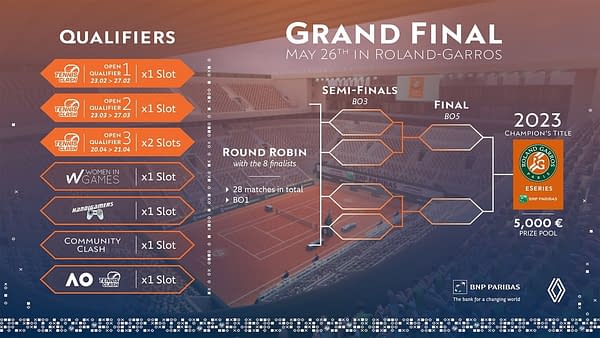 "In 2023, Roland-Garros eSeries by BNP Paribas will extend its collaboration with Women in Games – an international charity making gaming a better place for women – and introduce a new collaboration with Handigamers – a French charity helping people with reduced mobility to play video games. Both of these organizations will host closed qualifying events that will see the winners take part in a one-month remote training program facilitated by French esports organization, Team MCES, ahead of the Grand Final. Ahead of the Grand Final, all eight finalists will also receive the opportunity to attend an esports workshop courtesy of FFT, ensuring every participant is prepared to give their best performance on matchday itself. FFT is committed to making gaming accessible to everyone and is proud to be one of the few organizations endorsing higher representation in all stages of its competitive environment."
"We are thrilled to announce the details of our 2023 competition alongside FFT. Continuing our last year's successful partnership, we have created an even more exciting and engaging experience for our players," Dotan Arad, General Manager of Tennis Clash. "By being part of the Roland-Garros eSeries by BNP Paribas, we are committed to providing our players with the best content and experiences, offering them the chance to compete at Roland-Garros, a dream come true for any tennis fan worldwide."
"We are absolutely delighted to be hosting another edition of Roland-Garros eSeries by BNP Paribas for the sixth successive year and can't wait to see how the competition unfolds over the next few months," said Aymeric Labaste, Head of Roland-Garros International Development "Last year, we saw exponential growth as a result of our switch to a mobile esports tournament using Tennis Clash by Wildlife Studios, and the introduction of our new tournament format. Through our continued expansion, we're hoping to further build on the success of previous years and cement our status as the biggest eTennis event in the world."