Roll20 Adds New "Starfinder" Adventure Path Content
This week, Roll20 has teamed up with Paizo to add more Starfinder content to the platform, including a new adventure path many will find intriguing. Against the Aeon Throne: The Reach of Empire has been added to the mix, which will pit players against the merciless Azlanti Star Empire. This will give players 15 new monsters and 10 starships, pre-made Roll20 character and starship sheets, maps with dynamic lighting for Plus/Pro users, an adventure tailored for 1st level characters, and expanded lore for new creatures and new areas. You can check out more about it below, but the new adventure will run you $23 on their website.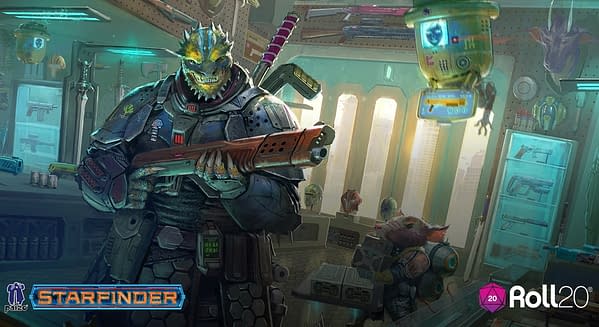 Hired to transport supplies to a fog-shrouded world in the Vast, the heroes discover that a small military force from the Azlanti Star Empire has invaded and occupied the Pact Worlds colony there. The heroes must liberate the settlement from its merciless oppressors, but when they do, they learn that the Azlanti have taken both an experimental starship drive discovered on the planet and one of the colonists — an old friend of the heroes — back to the Star Empire!