[rwp-review-recap id="0"]
When we first saw Sea of Thieves last year during Xbox's big presentation before E3 kicked off, this looked like one of the most promising multiplayer games we'd seen in a while. Seeking treasure with riddles, sailing ships, fighting off other pirates and a horrifying Kraken. It gave us hope that pirates might be cool again after suffering through a couple Pirates of the Caribbean sequels we didn't need. The beta test was run, but we had to know just how awesome the game was when all the mysteries were unlocked.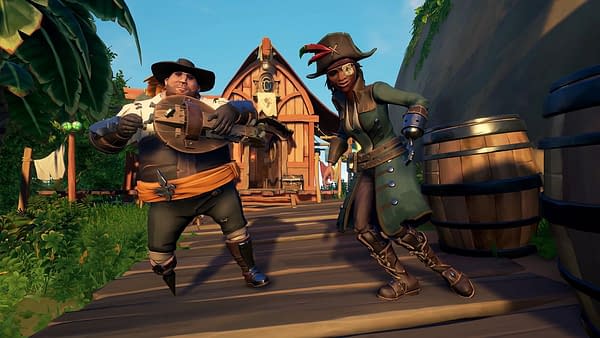 Sea of Thieves puts you in the role of a pirate that you get to pick from as the game randomly generates avatars for you, and then you set sail either by yourself or with a friend on a small Sloop vessel, or on a Galleon with a crew of three to four players. Both ships have their advantages and disadvantages when it comes to speed, maneuverability, armament, storage, and other details. Every ship is generated on a random island as you can either pick a job from different merchants on the islands, or you can roam around looking for either raids for loads of treasure through fighting, or attacking other players in the game who may have a treasure.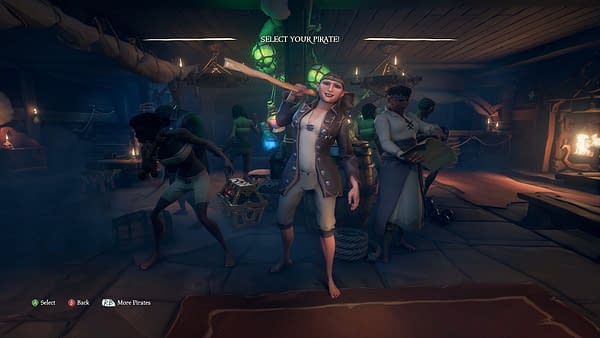 One of the most annoyingly complex but satisfying features in the game is sailing the ships. Rare went to great lengths to make it so you have to pay attention to the weather in order to make your ship sail. Adjusting them with the right amount of pitch and mast will get your ship flying across the map in no time, but the weather always changes and you'll need to pay attention to make corrections, lest you be left standing still five minutes later.
When you get to an island with treasure, you'll need to use a map full of riddles and clues to seek out where everything is located. Some are in the open, while others require your full skills of navigation, fighting, and smarts to figure out where to dig. You also have the option to go to raids, signified by giant skulls in the sky, which send wave after wave of angry enemies after you until you can beat the captain skeleton pirate and unlock the stronghold.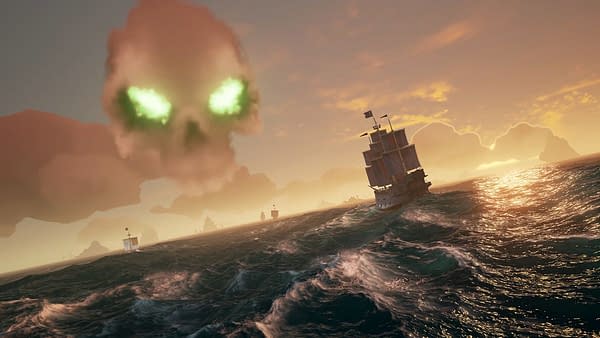 The game has plenty of cool things to do, but ultimately everyone ends up doing one of two things: raids and fighting. PvP battles are everywhere, and the player base, as you might suspect, are bloodthirsty and greedy. There's no mechanic preventing anyone from attacking you, which means you'll need to stay on your toes at all times to prevent would-be thieves from taking whatever you just fought for. While this is exciting, it also shows off the worst behavior of the players involved. It also relegates the game to repetitive behavior as you're forced to do one of three things: sail, repair, and attack. I sat through six different battles that took over an hour to finish, win or lose, and about the only thing we accomplished was getting some extra bananas for health.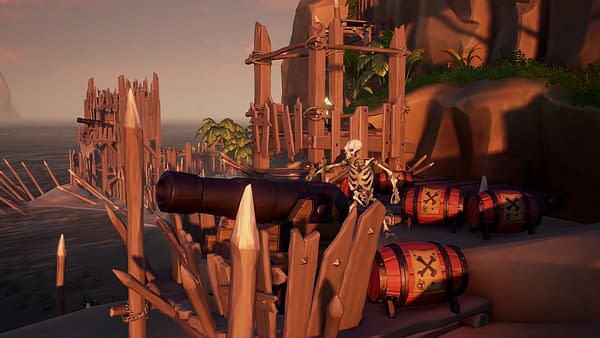 The game also has a major issue with difficulty and the occasional bug. There are times skeletons don't manifest and leave you hanging on a quest you can't finish. There are times where skeletons are stuck, say at a cannon, where you can't kill them and they're not firing. There are raids where even if you leave the island for five seconds to get more health, they island resets or the waves just keep coming for long periods of time. The game needs additional variety beyond finding things to turn in and surviving. I'm sure that will come in future patches, but for now, it's a bit frustrating.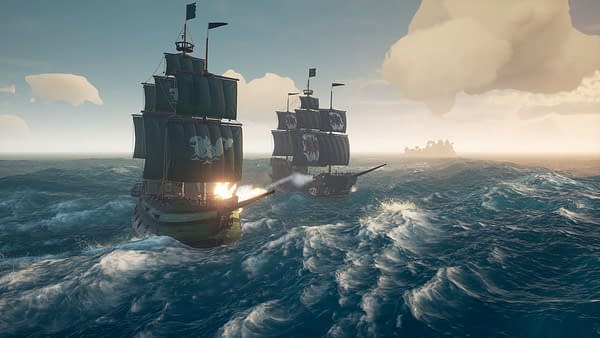 The design of the game is absolutely beautiful. The sea looks and feels every bit as much as it would if you were in a real ocean. Rare managed to perfect the way clouds form and weather changes, along with some of the most blissful sunrises, sunsets, and starry skies you'll ever lay eyes on in a video game. The ships, while retaining a bit of the cartoonish look as the pirates in the game, all have their own personality and design quirks that make them feel real. Even the sunken ones with hidden supplies and treasures you'll find on occasion. The game is a work of art that can't be ignored, especially when sailing between islands.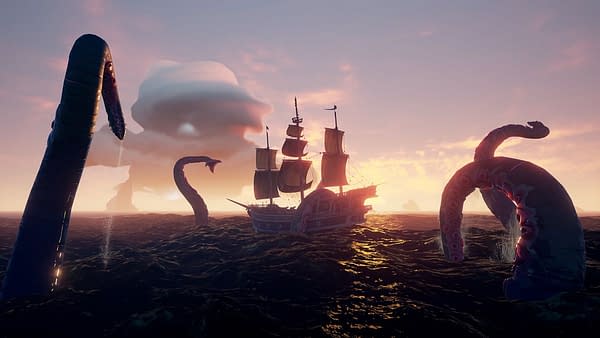 Sea of Thieves is an excellent game, but like all buried treasure, it comes with some rust that you can't sell or make any good out of. The game is pretty sound, but there are a lot of things that could be improved upon and added to make it feel like a real-life voyage as opposed to a run-and-gun on the high seas. Basically, we're pleased with it to a degree, and we're quite confident that there's a large portion of the player base that will eventually quit after a while if nothing new is added. Because there's only so many times you can run in circles killing each other for treasure. For now, it's a good game, but it needs more to it.
[rwp-review-ratings id="0"]
[rwp-review-form id="0"]
Enjoyed this article? Share it!