Beau Blyth, co-creator of Hyper-Light Drifter, and studio Teknopants are bringing Samurai Gunn 2 to the Nintendo Switch as a limited-time exclusive before the game launches on other platforms. Much like the original Samurai Gunn, the sequel includes a brutal, fast-paced free-for-all verses mode designed for 2-4 players. The controls in versus mode have been improved, and new characters and levels appear in versus mode, but it will mostly feel familiar. You still have a sword, a gun with three bullets, and a single hit will mean your death.
The changes with the sequel, while many, come in the form of a campaign mode and a graphic novel.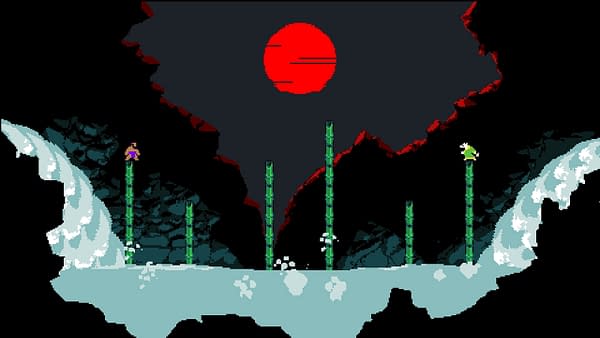 The campaign mode will take players to the medieval metropolis called Gunn City, where a "mad emperor pushes to expand the city at a ridiculous pace, while an epidemic of gunnpowder overdoses is on the rise, and old spirits are creeping back into the world." Players can take on the campaign mode alone or with a friend in co-op. The trick to the campaign mode is that you will still die if you get hit a single time.
The description for Samurai Gunn 2's campaign reads:
Adventure with a friend through a medieval metropolis on the brink of crisis—fight or fly past your foes to discover the mystery behind Gunn City's ghostly threat. …or battle together with a group of 2-4 friends in versus with improved controls, new levels, and new characters! A princess, a golem, a samurai knight, and a homeless girl all have a part in rewriting the fate of Gunn City forever.
The game will also feature a visual novel called Trigger Soul, which is a Samurai Gunn graphic novel by acclaimed French comic creator Valentin Seiche.
Samurai Gunn 2 will release on the Switch early next year.
Enjoyed this article? Share it!