Ysbryd Games brought a few games to PAX West this year, but the one game that absolutely captivated us at their booth was World Of Horror. This game was a lovely little throwback to the text-and-explore games you used to see on PC and Mac devices in the '90s, and took my mind clear back to elementary and junior high playing older black-and-white titles like Where in the World is Carmen San Diego. The game puts you in the role of a sort of spiritual schoolgirl detective in Japan during that era, who came to find what happened to her friend and discovered a journal to send a demon back to wherever they came from. At least, that's what the demo od this was.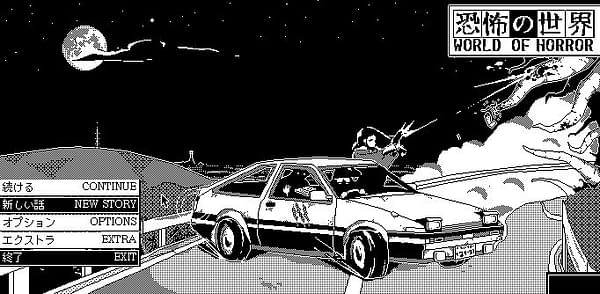 You basically have an adventure where you explore and gather clues by running into people and exploring different places. Depending on who and what you run into, different stats become affected and you take damage. The goal is to take out whatever evil you're looking for and live to see another day doing more dangerous detective work. I really loved this, despite dying three times in the demo because it wasn't all that clear from the get-go what we should be doing. World Of Horror will be released sometime in 2019 on Steam, PS4, and Nintendo Switch.
Enjoyed this article? Share it!